Game's Manager Sues 'NY Daily News' for $100 Mil Over "Snitch" Claims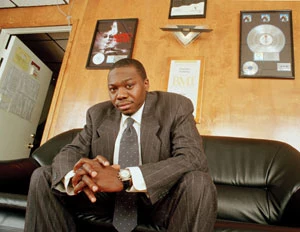 Jimmy "Henchman" Rosemond, manager to Game and CEO of Czar Entertainment, has filed a $100 million lawsuit against famed New York newspaper the Daily News for a story they published last month that painted him as a federal informant.
As previously reported, on September 13 the paper reported that Rosemond—a noted figure in the "stop snitching" movement—provided law enforcement with information at least three times since 1996, according to court documents that they obtained. One of those instances included informing authorities on a possible jailbreak in 1996, staged by four other inmates, back when he was incarcerated on drug and gun charges in North Carolina.
In the article, Rosemond's attorney, Jeffrey Lichtman, denied the allegations. "[Rosemond] met with [federal prosecutors] for a single session, but there are plenty of reasons people meet with prosecutors," he said. "His lawyer at the time inflated what happened in an attempt to get a better sentence, and it didn't work."
SOHH.com obtained the 11-page complaint filed by Rosemond against the News. "Plaintiff James Rosemond, by his attorneys, brings this Complaint for money damages against the New York Daily News and Chuck Philips, and alleges as follows: This is an action for libel arising from the Daily News' September 13, 2010 publication of a misleading and false investigative report, entitled 'You don't say? No-snitch advocate exposed an informant.' First Cause Of Action: Defamation. Second Cause Of Action: Negligent Infliction Of Emotional Distress."
Chuck Phillips, the other man named in the suit, is a journalist known for penning questionable stories on hip-hop personalities. In 2008 he was even fired by the L.A. Times for a piece he wrote claiming The Notorious B.I.G., Diddy and Rosemond knew that Tupac Shakur would be attacked at New York City's Quad Studios in 1994. In a post on MTV's new rap blog, rapfixlive.com, on October 6, they said that Phillips was behind the Daily News story as well.
Stay tuned to XXLMag.com as more on this story unfolds. —Elan Mancini