Fat Joe & New York Knick Amar'e Stoudemire Talk B-Ball & B-Boys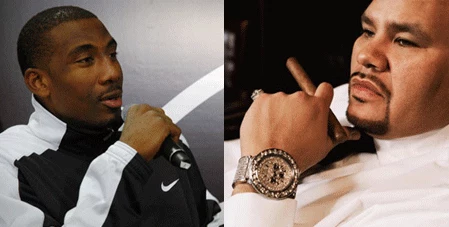 XXL got diehard New York Knicks fan Fat Joe to play journalist for the day as he interviews five-time NBA All-Star Amar'e Stoudemire. The two hip-hop fans have a hearty conversation about the love of basketball and hip-hop. We'll call this roll play.
FAT JOE: Yo, Amar'e, what's the chances of [the New York Knicks] getting Carmelo Anthony [from the Denver Nuggets]? 'Cause you know I been on him heavy. I been harassing him, harassing his wife [La La Vazquez]. You think we [Knicks fans] might get him next year?
AMAR'E STOUDEMIRE: [Laughs] I hope so. It's possible, man. I think 'Melo is looking to make a decision soon. Hopefully we can land him in New York. We could use him.
FAT JOE: New York is crazy excited. We got [Anthony] Randolph [from the Golden State Warriors]—he's skinny, but he's real tough. He's gonna be somebody in this league. If that nigga just lift some weights and eat some shit, he's gonna be aight.
AMAR'E STOUDEMIRE: He's gonna be aight. I'ma put him under my wing for a minute, man. Make sure he understand [what it takes] to be an all-star in this league, and he'll get it together.
FAT JOE: You feeling ready this year?
AMAR'E STOUDEMIRE: I feel great, man. I feel like this is going to be an all-time year for me.
FAT JOE: I got that newspaper clipping when you took that picture [signing with the Knicks in early July]. You had your hands open at the front of Madison Square Garden. I was just so excited, and I still am. In New York, we've been thirsty for so long—we need this. Who else was really on you to go [to their team]?
AMAR'E STOUDEMIRE: Well, Miami kept calling me. Houston kept calling me. Phoenix kept calling me. Chicago was calling. New Jersey asked for a meeting. But I figured New York is… From a platform standpoint, playing in Madison Square Garden, as a player, you can't look to do anything bigger than that. That's, like, an ultimate goal from a basketball-player perspective.
FAT JOE: And you're the king of New York, man! New York Knicks are such a blessed franchise—because, if we don't win one game, it's still sold out every night. Hopefully, next year, we get some more pieces involved. They've been rumoring CP3 [Chris Paul]. You know I've been harassing him too.
AMAR'E STOUDEMIRE: Yeah, he's locked in [to his contract with the New Orleans Hornets] for a few more years. But if we can make the playoffs in this upcoming season here, then that'll intrigue more players to come to New York. Everybody wants to come to New York—they just need a reason to. So if we make the playoffs, and we make some noise in the playoffs and be successful, everybody gonna wanna come to New York.
FAT JOE: Nah, we making the playoffs, B. There's no way around it.
AMAR'E STOUDEMIRE: Absolutely.
FAT JOE: Even if you gotta score 40, 50 every game, we making that playoffs!
AMAR'E STOUDEMIRE: No doubt.
FAT JOE: Big men win championships. You're obviously a big man, no homo. How [have the people of NYC] been treating you as you walk around New York?
AMAR'E STOUDEMIRE: The fans [have] been incredible, Joe. Everywhere I go, the fans are so psyched about the Knicks; they can't wait for the season to start. They talking "Playoffs, playoffs, playoffs." They saying this is the first time the city really been excited about the Knicks in a long time.
FAT JOE: What does the normal, common folk ask you when you walking down the street?
AMAR'E STOUDEMIRE: Man, pretty much what they sayin' on the corners and the streets of New York is these words verbatim: "Stoudemire, get buckets, man! Get buckets, son! Take us to the playoffs!"
FAT JOE: [Laughs] What you got on your tape deck right now that's hip-hop?
AMAR'E STOUDEMIRE: I'm riding with that Eminem right now. I got that Drake in the mix. And then you got the mixtapes out, so I got a lot of mixtapes. You know I gotta be rocking the mixtapes.
FAT JOE: Aight! Amar'e loves hip-hop, and he in that home of hip-hop, that mecca. So you about to start hearing some real-deal hip-hop. You about to get enlightened, [and you're] really gonna find out about Dipset, The Lox, Joe Crack.
AMAR'E STOUDEMIRE: You know I know about all that, man, 'cause I was raised in New York. I was raised in Newburgh, New York, so I was out there when Biggie first hit. So you know I know about Big Pun, Joey Crack. I grew up in that era, so it's kinda home sweet home for me.
FAT JOE: I know you went to Carmelo Anthony's wedding. Was you asking him to come play for the Knicks at that wedding? Did you try?
AMAR'E STOUDEMIRE: You already know I did! [Laughs] We trying to build a conglomerate with the Knicks. We trying to build something special out here in New York.
FAT JOE: I'm sure you are, my brother. I got no doubts.