Masked St. Lunatic Says Nelly Did him "Derrty" [With Video]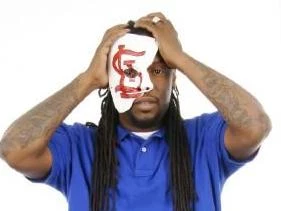 Former St. Lunatic Slo Down—known as the one member of Nelly's popular early naughties crew to wear a mask—has taken to worldstarhiphop.com to air out his discrepancies with the Midwest rap star.
During the interview, filmed in front of an array of Nelly's gold and platinum plaques, Slo Down claims he wasn't fairly compensated for his work in the group. "I might fuck around and get emotional talkin' about all how that money was getting' split up, shit was crazy," he said. "Niggas was eatin' and I wasn't one of them niggas. I was snackin'… I was lunchin', havin' lunch every now and then, and niggas was havin' four course meals and ain't have shit to do with shit." [Watch below]
"Whatever we did Nelly got half of that shit, and the rest of the group split that up," he continued. "And when it came to splitting the money I wasn't part of the rest of the group."
While he may not have penned any rhymes, Slo Down explains that he was still an integral part of the crew and played a major role in their success. "I ain't write no lyrics or nuthin but…I brought more to the stage show, [and] to the image," he said, stating his appeal to the younger audience.
Hinting at releasing a tell-all book about his experiences with the group, Slo Down jokingly referred to the group's motto. "It's derrty out here, I'm all I got."
As of press time Nelly has yet to address Slo Down's allegations of unfair business practices. —Elan Mancini