Win a Copy of Tech N9ne's "Live in Kansas City" DVD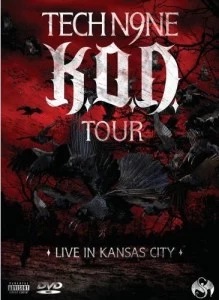 Independent phenom Tech N9ne has a reputation for his explosive live shows. Extensively touring throughout the country to promote his last record, K.O.D., the Kansas City, Missouri-bred MC made a triumphant stop in his hometown last November at the Independence Events Center and will be dropping a DVD commemorating the event. In celebration its release, XXLMag.com is giving away four copies of Tech's K.O.D. Tour: Live in Kansas City DVD.
The first four lucky readers to email XXL@harris-pub.com with their full name, mailing address and the correct answer to the following question will win. What MTV reality show did N9ne appear on in 2007? XXL has two copies of the DVD on Blu-Ray and two regular discs. Please specify in the email which version you would prefer. The XXL staff will notify all of the winners.
The DVD features appearances from all of Tech's Strange Family—including Krizz Kaliko, Kutt Calhoun and Big Scoob—as they perform such crowd favorites as "Welcome to the Midwest," "Caribou Lou," and "Areola," which prompts many female fans to flash the stage.
Tech N9ne's K.O.D. Tour: Live in Kansas City DVD hits stores on Tuesday, May 18. —XXL Staff