Ghostface Squashes Beef With 50 Cent, Says He's Open to Record a Collabo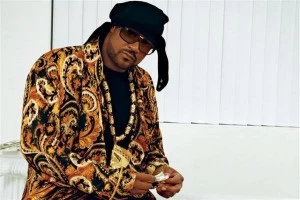 The feud between Ghostface Killah and 50 Cent is officially over. In a recent interview with XXLMag.com, the Wu-Tang vet said that his beef with Fif is a thing of the past.
As fans know, the two New York rappers had a public war of words years back, after 50 included the Shaolin heavyweight on 1999's "How to Rob." Ghost notoriously then fired back on a skit from his critically acclaimed Supreme Clientele album, as the deep-throated Clyde Smith. "Yo that nigga 50 Cent, I don't even know why he did that lil bum ass shit right there," he said. "But I'ma tell you something. You can say all them other niggas names but niggas gonna see you based on that big daddy…If I see you up in here I'ma have about 500 wolves on you…like I said 50 you a bird and niggas gonna see you."
After seeing an interview with Starks on Fif's web site, thisis50.com, XXL asked Tony what caused the change of heart. "That's some old-school shit," he shared. "Back then, things were all snowballed in the air on some other shit. I didn't like what he said, that's where it all started from anyway. But we kicked it on the phone one time, and after we kicked it on the phone that was it."
"I aint really trying to hold no grudge fucking 30 years later after he done said whatever the fuck he done said," Starks continued. "So it was like whatever."
Ghost says he would even be open for recording a song with Fif.
"It's whatever God wills," he said. "At the end of the day we're still people just trying to get ahead. It's like you're having a fight with a muthafucka 10 years ago… you can either keep the grudge or be like 'yo wattup' and just let it go and shit, it's like what the fuck I'm holding on to it for. I respect all these niggas. As long as you respect me, I'ma respect you."
Wizard of Poetry, Starks' R&B-tinged eighth solo LP, is set to hit stores on September 29. –Jesse Gissen