Trackmasters Ready Children's Show: "It's the New Hip-Hop Sesame Street"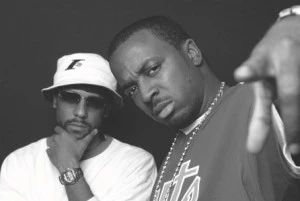 Elmo and friends are about to get a hip-hop remix. Production duo Poke and Tone are set to unveil an original, six-years-in-the-making children's TV show, titled Kids Block.
"In a nutshell, it's the new hip-hop Sesame Street," Tone told XXLMag.com. "It's very authentic, all real music, all real hip-hop tracks, R&B tracks."
The show uses hip-hop music to promote education. Artists will regularly close out the show with the concluding staple segment, "Block Party."
"We used real writers, real rappers," Tone said, "all the way to the point where the… puppeteers had to take hip-hop dance class to learn how to move the puppets authentically."
Currently writing scripts and beginning filming, the show is set for a January release on an as-yet-undisclosed major network.
On the music side, the Trackmasters are focused on upcoming albums by Red Café and Lil Kim. –John Kennedy