XXcLusive: Rick Ross Responds To iTunes Sales Battle With Lloyd Banks, "Well, I Don't Know Anyone Who Buys It"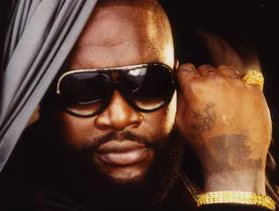 With Lloyd Banks' diss track "Officer Rickey" charting above his lead single "Magnificent" on the iTunes Top Songs Chart last week, Rick Ross spoke to XXLMag.com on Monday night (March 23) to discuss his lukewarm sales reception, despite the glowing reviews for his upcoming album, Deeper Than Rap, at a recent listening party.
"I don't really go by iTunes," said Ross, dismissing the value of the retailers figures, though it tracks purchases as opposed to just spins. "They just can't really judge the streets—you gotta judge a combination."
Of Banks' relative success, Ross countered, "Well, I don't know anyone who buys it," adding, "My record is a Top 10 record on Billboard" — a reference to "Magnificent" holding down the #9 spot on Billboard Hot Rap Tracks chart.
The news of Ross' struggling sales seemed to compound his problems, coming on the heels of rival 50 Cent releasing the now-infamous sex clip starring the mother of one of Ross' children. In discussing the video, the Miami rapper hit back, "I don't think they should release another Lloyd Banks gay tape."
Although the "gay tape" in question stars adult actor Brian Pumper, who bears a striking resemblance to the G-Unit rapper, Ross went on to say, "Google it when you get time. I know if you like me, you don't watch gay tapes. Millions of people wanted to confirm it with him and that's what they've done."
"Other than that," Ross added, "I'm focusing on the people that's focusing on the music. If you watching the business, you can work for me. And don't argue about working for free—maybe I can pay you one day. I make music for the fans."
Deeper Than Rap is scheduled for release on April 21st. – Devin Chanda
Stay tuned for more from Ross as he will be gracing the cover of the upcoming XXL magazine, hitting newsstands on April 7th.