Jim Jones' Musical Returns To The Stage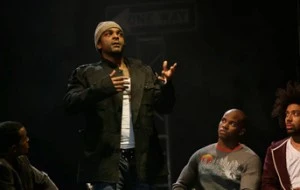 XXLMag.com has learned that the Dipset Capo's play Hip Hop Monologues: Inside the Life & Mind of Jim Jones is returning and it will be re-opening later this month, this time open to the general public.
The musical, which premiered last November for only two-days for a select group of media, is coming back to New York City for five nights. Written, directed and produced by J. Kyle Manzay, in association with Sony and Damon Dash, the show follows Jones as he returns to his Harlem hometown after becoming a star. Connecting with important figures from his past, the rapper is forced to make a life altering decision.
Backed by a live band lead by SA-RA's Om'Mas Keith, Jones will perform several tracks from his upcoming major label debut Pray IV Reign – the inspiration behind the script.
Monologues returns to Manhattan's 37 Arts Theatre starting on Tuesday, March 24th – the day Jones' new album hits stores – until Friday, March 27th. Tickets for the show are on sale now at ticketmaster.com. – Elan Mancini