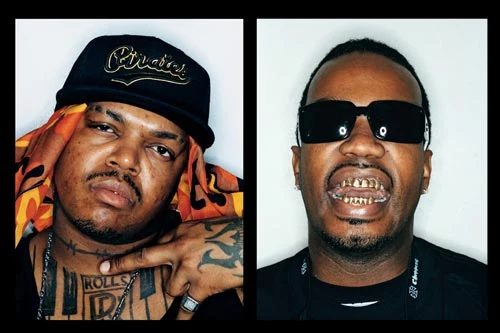 At the Hypnotize Minds headquarters in downtown Memphis, security ain't quite as tight as it is across the street at 201 Poplar, the city's fenced-off criminal justice center. But rest assured, Three 6 Mafia dons DJ Paul and Juicy J keep their studio on lock, maximum security–style. If you get through the gated courtyard and up to their unmarked office suite, you'd still have to deal with the iron-barred doorway and the two armed security guards on duty. In other words, if Paul and Juicy haven't invited you in, you're not getting in.
Upstairs in the studio, Paul waits as his engineer cues up a mix of some tracks they've been making for Lil' Flip. Recently having completed work on Three 6 Mafia's new album, Most Known Unknown—which marks 10 years since the group's underground debut, Mystic Stylez—Paul and Juicy are getting back to work on the outside production assignments that are increasingly becoming a significant part of the duo's income. Over the past year or so, they've lent the Memphis sound to high-profilers like Ludacris, Young Buck, and Mike Jones. As if they're regular office workers, Paul and Juicy report to the studio Monday through Friday, during set hours, whenever they're in town. And when they're around, so are the uniformed rent-a-cops.
Paul admits the security surrounding him is more a precaution than the result of any actual threat they've experienced. But this is Memphis, where being vigilant against others coming to take what belongs to you isn't just paranoia, it's part of the culture. So when you find yourself fronting the most successful hip-hop act and label ever to emerge from western Tennessee, you tend to see yourself as a target.
"In other cities," Paul says, "there's a million rappers, and a million millionaires. But in Memphis you ain't got nothing. If you going to talk about somebody who you see on TV and radio from Memphis, you're going to say Three 6 Mafia."
Outsiders see Memphis as a city swamped by history—particularly music history. There's Graceland, the Rock 'N' Soul Museum, the Stax Museum, Sun Studio tours, the National Civil Rights Museum (on the spot where Martin Luther King Jr. was murdered) and Beale Street, an entire nostalgia-based entertainment district recreated on a strip where an actual club district once bloomed organically. Other people know Memphis as a national crossroads—halfway up the Mississippi River that splits the country in two—and, as such, a convenient home base for everything from FedEx to some of the country's most accomplished pimps and drug dealers.
This past summer, thanks to the acclaimed film Hustle & Flow, moviegoers got a chance to see a rare, close-up (though fictionalized) glimpse of the city's hip-hop scene, which has flourished with only the occasional national breakthrough since the late-'80s proto-crunk days of "gangsta walking." Watching the behavior of Skinny Black, the fictional Memphis rapper depicted in Hustle & Flow by Ludacris, a national audience got a taste of a phenomenon local rappers have long endured—around these parts, Memphis is known as the crab bucket capital of America.
What's a crab bucket? Folks who've spent time on the muddy banks of the Mississippi know that when you catch crabs and put them in a bucket, the crabs themselves will ensure that no one is able to climb out. When one tries, the others grab to pull him back down. In Memphis, locals believe, the people act that way, too. The result is a strong every-man-for-himself attitude.
"Somebody makes it from here, there ain't a lot reaching back and pulling in those that need to be pulled in," says Gangsta Pat, who back in the early '90s was the first Memphis rapper signed to a national deal, and who later made a well-known Three 6 Mafia dis song "Tear Yo Club Down." "We the only city where all our rappers ain't never came together on one song. We don't have beefs here, we call them grudges. We be hating you and you don't even know about it."
As Southern hip-hop has come to dominate the national stage, rappers in places like Atlanta and Houston have elevated themselves in concert with the overall economic blossoming of their cities—largely avoiding the kind of insular beefs that would spoil the prospects of success. But Memphis remains shrouded in a bitter hopelessness that seems to stretch back to the King assassination, if not further. Some say the vibe on the city streets is what gives the Memphis hip-hop sound—made famous by Three 6 Mafia, but adopted by nearly everyone—its sinister, almost horror-movie edge. "Our sound is really the original Memphis sound," says Paul. "That's how it sounded back in the day. Memphis is a dark city, it's grimy. It's a small city, there ain't a lot of people got money." It comes out in the raps, too. Within the limited circle of M-Town MCs, seldom is heard an encouraging word. Kingpin Skinny Pimp disses DJ Squeeky, and Squeeky disses Skinny. Playa Fly disses Three 6 Mafia and Three 6 disses Playa Fly. Yo Gotti disses Crunchy Black. Gangsta Blac and Playa Fly dis Yo Gotti. And so it goes.
"A lot of Memphis artists don't know how to go about connecting with each other," says Juicy J. "A lot of Memphis artists diss each other on CDs. And I don't think that's the best way to try to work with somebody. We're on top and somebody comes out with a song about 'Fuck Three 6 Mafia,' and I'm like, 'Who is this guy?' I don't even know him. That's not a good way to introduce yourself. But that's just the problem with this city as a whole, Memphis artists diss each other so much on record that don't nobody want to work with nobody."
As the king crabs in the city, Juicy and Paul feel a lot of pinchers on their feet. When local rappers bitch about how their successful peers don't help out others still struggling to come up, they can only be referring to Three 6—the only other Memphis hip-hop act in a position to shine a light is 8Ball & MJG, and that duo spent most of its career exiled in Houston. What's more, Memphis is littered with now-disgruntled rappers formerly down with Hypnotize Minds: Skinny Pimp, Gangsta Blac, Playa Fly, Gangsta Boo, Koopsta Knicca and La Chat. And that's not to mention Paul and Juicy's embittered former business partner, the convicted drug dealer Nick "Scarfo" Jackson, who has recently corralled Hypnotize castaways like Boo and Lil' Pat into his reactivated Prophet Posse.