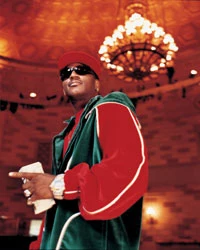 It's a scene right out of any classic mob flick. Except today, seated in the barber's chair with a cape draped under his chin while awaiting his cover shoot with longtime friend and mentor Dame Dash, Cam'ron plays Joe Pesci. On the right side of the Diplomat Records CEO's mouth, in place of the Godfather cigar, a blunt steams with that sweet, sticky purple stuff. On the left, Cam's signature "are you kidding me, B?" grimace spews big-business braggadocio. "Warner Bros. is gonna have to give me a comfort number," he shoots regarding the signing bonus that will accompany whatever offer the WB grants Cam for his next solo album.
See, once Jay-Z inherited the presidency of Def Jam last January, Cam requested his walking papers. When L.A. Reid made his wish come true, Cam became rap's biggest free agent. But besides being precious stock as an MC, today Cameron "Cam'ron" Giles stands as one of hip-hop's most diversified businessmen.
After joining his buddy Dame's Roc-A-Fella family and earning his first platinum plaque for Come Home With Me, which was pillared by the single of his career, "Oh Boy," and successor, "Hey Ma," Cam decided to build his own movement. Armed with a thorough crew (Dip Set), a label (Diplomat Records) and colorful artists (Juelz Santana, J.R. Writer, Hell Rell and co-CEO Jim Jones), Killa Cam set out to do what Roc-A-Fella achieved: create a dynasty.
Today, Cam's mantra stands even stronger: It's more than just music. Following in Dame's footsteps, he's ventured into the liquor business and fashion world. Cam's Sizzurp, a purple blend of fruit juice and cognac, is the fastest-growing cognac in the country. And his courageous adoption of the color pink two years ago has turned school-yard snickers into pie-faces, making him a major catalyst in it becoming the unisex shade for 2005 fashion.
While it seems that Cam's life has been the portrait of lucrative business and rock-star imagery of late, the music has not followed suit. His last LP, Purple Haze, was practically ignored by Def Jam despite being adored by mainstream media and, to date, has yet to achieve 500,000 in sales.
Today the Diplomats' curator still has intact his Def Jam contract for Juelz Santana's next record, as well as a distribution deal with Koch Records for any other Diplomat Records releases (ex., Diplomatic Immunity 2). As for his solo career, the Pink purveyor is sittin' pretty. With deals on the table from at least three separate major labels, treading in the $2 million range (for just one album!), the former bosom buddy of Mase and ghost writer for Lil' Kim appears to have the world in his hands––and it ain't just Harlem.
Freshly lined up, Cam exits the barber's chair, never losing his gangsta stride. With a devilishly arrogant smirk, he quips, "This year, I'm 'bout to make a lot of people mad, man."
Out of all of Dame's peoples, you seem to have the biggest movement with Dip Set. Are you separating yourself, or are you going to be a part of the Damon Dash Music Group?
Nah, I got my own thing. Diplomats, you know what I'm saying? I'm not gonna renegotiate my deal with Def Jam. Juelz is staying over there, not myself. Jim, J.R. Writer and Hell Rell still got they thing at Koch. And me, I'm undecided. Dame is always gonna be my consultant, and he's gonna be 100 percent into all my projects. It's Diplomats, but Dame will be very much involved in marketing, promotions, everything.
Why were you so adamant about getting off Def Jam once Jay took over?
Basically, at the end of the day—ain't no real secret, I've been trying to tell Def Jam and every other label I've been at, "Yo, get behind the project." And it's always like one or two artists that they'll put ahead of you. They don't have the faith. They always catch on too late. Then, after I wanna leave and get everything going, everybody's like, "Nah, I know what it is. We want to get it together. We wanna get the next single." I'm like, "You said that on the first single." Ain't nothing personal, business is business. But I know when I'm not a top priority, and I know when I am a top priority, and I just didn't feel like a priority in that building.
You didn't think bringing in a real rap dude like Jay would be better?
Jay is the CEO of Roc-A-Fella, and we been on there for three years. It ain't been like Jay been on any of the projects I've done before. I mean, he was on one ["Welcome to New York City," from Come Home With Me], but it wasn't like…
It was being pushed?
Exactly. I'm not knocking that—that's all good. But I'm saying, it wouldn't really make sense to stay there and act like we gonna do a lot of business if we never met to do business.
Word is there's always been a strain between y'all two. Where does that come from?
I mean, it's the media. People amp shit up. When I see Jay, he say, "What's up." I think he's one of the best rappers in the game to ever do it. But at the end of the day, it ain't no real beef. It's like, if I'm on your label for three years, we give each other five, that's our relationship. But then you get the next job. And you could be an artist, but now you're [supposed to be] getting artists. So it's like, Why I'ma holla now? You should've been holla'd. I'm not mad about that. It's just, I gotta know where people got that 100 percent support from jump.
You're highly respected as a rapper. Meanwhile, your contracts are as tight as your flow. You obviously work hard on the business side, huh?
Oh yeah. All my deals now, I build my brand up to where I don't have to have a regular artist deal. Like, all my deals are either joint ventures, P&D [press and distribute] deals or paid program deals, where I get two or three dollars from first records sold. The deal is not even no recoup or nothing. I'm the only dude that's about that. I got about three different [record deals] in New York. I'm about to have a joint venture at Def Jam [for Juelz]. I got a P&D deal at Koch [for Diplomats Records]. And wherever I go, mine will be the third deal. I don't know where yet. There's still a lot of options. A lot of people coming in with different money.