DJ Drama & DJ Skee present R. Kelly: The "Demo" Tape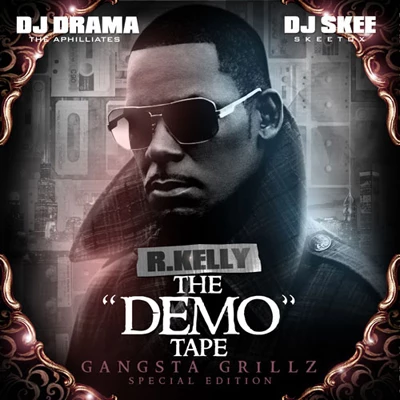 Before the underage sex scandals and Dave Chappelle scolding skits, R. Kelly was in fact the Marvin Gaye of our generation. His R&B music would set the mood for some of the best love making this side of the Western hemisphere and he would tell stories of heartbreak and down low ventures in a manner that would rival your favorite Fulton Street author. But then he became a urine welding version of Roman Polanski and all of a sudden songs and projects like "It Seems Like You're Ready," "Home Alone," and Aaliyah's "Age Ain't Nothing But a Number" were seen in a whole new light. The once King of R&B (sorry Ush, you never had a chance) who sang about having "Sex in The Kitchen" had become Kevin Bacon in The Woodsman.
After falling back for a hot second after being exonerated of all child pornography charges, the Chicagoan is attempting to reach the same streets that christened him the King of R&B via the mixtape circuit. The big question is, does he still got it? After listening to this mixtape there's no denying that he's still that dude. Part of what helped him blow were the nuttiest concept songs that made sense. So it's no surprise that he'd craft songs like "Banging The Headboard," and "Tip The Waiter." But his catchiest songs were his versions of "Best I Ever Had," "Love Lockdown," and "Turn My Swag On." If you keep up with my mixtape reviews you know I'm an Auto-Tune hater to the fullest, but Kells can give T-Pain a run for his money the way he flipped the aforementioned joints, not to mention Pain's own "Chopped N Skrewed." But that's just pure talent rocking in a digital day.
This whole mixtape was just proof that regardless to whom or what, Kells has the R&B that the game's been missing. Not just his voice, but his concepts, style and creativity on records. Leave it up to Robert Kelly to create a chorus where he repeatedly says, "And I make that P-U-S-S-Y/Cryyy-Cryyy" on "Pussy Cry" and make it a banger (no pun intended). For all the sex scandals and idiotic quotes ("I hate anything illegal"), no one can dispute that this man is a musical genius. I for one am looking forward to hearing what he has in store for the R&B heads on his next album, but I just hope it's for the grown and sexy, not the underaged and acne infested.
Hottest Joint: Take your pick…
Weakest Joint: "Superman High"