Project Pat Talks Forthcoming "Mista Don't Play 2," Three 6 Mafia's Hiatus, and Blue Dream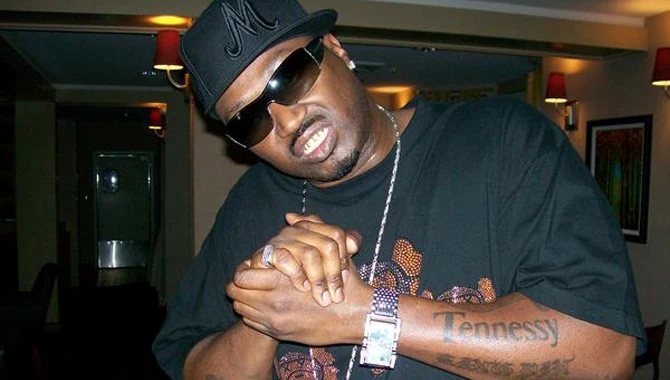 You're open to taking all these drugs, how do you feel about all these rappers talking about taking ecstasy?
One thing about that is what they doing is they just talking about what's going on. We had the song "Sippin' on Some Syrup" long time ago. People in Memphis have been sipping syrup since when I was 14. It was supposed to be a rich, dope man's high in Memphis at the time. What I see now is people just talking about what they doing. The tripsters, you know what I am saying? But it is cool though. Most dudes, when they be on that, you hear them talking about, selling bricks, and to be real, that ain't what I do. I don't knock that because in my eyes, you know what? That's keeping it real. I like a dude like that. I like that. That's why I have no problem with the tripsters because I've been in prison. Who wants to go there? You rather smoke some weed, pop you a little pill, get your gal, or get with some girls and do what y'all do. You can't do that in jail.
So the new tape, Cheez N Dope. Why did you name it that?
Because of the song, Cheez N Dope, everybody like the song. You know, the title for a mixtape, we wanted it to scream a real street since everybody call me a street artist. I said, "I'ma call it Cheez N Dope." I started telling people and producers I was working with what I was going to call it. "Ooo, man. Ooo, that's gonna go right there." So I'm gonna with that there. Cheese and dope is the same thing, it's money. You got dope, you got money. If you got cheese, of course you gonna get money that's what that is. I mainly named it because of the song though. To let people feel how I was coming on this. I told O.J. [Da Juiceman] the title and he was like, "Aw, yeah. I know how you are gonna come on that one boy. I know how you gonna come on that one." He knew.
What can we expect on Mista Don't Play 2?
I'ma keep it real with you. I was thinking about it and I know how I am going to do it. Just how UGK and them came out with them last one. That time Pimp got out of jail? Just like that. It's going to be on that same format, that same formula. And that album sold. It went gold in a couple of months. It's going to be just like that. I am going to lay it out. I am going to try my best. I can't say it's going to be a classic like Mista Don't Play, the first one. But it is going to be close to it.
What's the direction are you going with? Are you going to experiment or stay vintage Project Pat?
No, no, no, no. We gonna get high now. [Laughs] No, no, no, no. We are gonna put a few more get high songs on here than usual now. Regular Project Pat might have at the most, three. This one right here will have at least about five. Gotta get high man. Everybody wanna hear that. See, that's one thing about it man. I am trying to single out me a single. I can't say it'll be the first one or the second one. It's gonna be second or third one. I'm trying to single me out a single that's gonna be talked about getting right. Getting your mind right. I don't know what I am going to call it yet, but it is going to be something. It's gonna be something around that nature because I am telling you now—you gotta have it. It's not gonna be a Molly song. It's gonna be something about getting right. It's gonna be something for the club. I gotta do that cause you gotta have something for the tripsters now. We gonna have plenty for the tripsters.
Who are the producers you've worked with?
I really want some stuff. Juicy's gonna get me stuff with Mike WiLL Made It. I want some stuff from Young Chop. I got an in-house producer named Lil Awree—he's real good. I am also messing with Crazy Mike, Juicy's in-house producer. We've been messing with him for years. He's our engineer. He's been messing with us for years since—in fact—the Three 6 Mafia days. This dude can make beats. Cold.
I'ma tell you someone who I mess with. He's not really a vet in the game yet, but he make nothing but hits. Drumma Boy. I am messing with Drumma. Tough. For Cheez N Dope, I got some heat. He's still sending me some stuff. He's been sending some stuff that's [really] good. Cheez N Dope 2, people know how I am gonna be coming on Mista Don't Play 2. But I promise you, I am definitely messing with that Drumma Boy.
What about artists? Who do you see yourself working on the album or the mixtape?
Oh man, I am waiting on this little feature from Mac Miller. It's probably coming this week. I am going to release it as soon as I get it. Ima waste no time, let's go. I don't know man. Like now, there would only be certain artists I mess with. But now, I'ma do some flip side. I'ma do something like, "Man, he did something with him? I wonder how the hell that gonna sound?" But, it's going to be good though. I know not to put somebody, a rapper that's more of a crossover rapper on selling rocks, cocaine song. I know not to do that, but at the same time, I know how to put them on the song about some ballin'. Getting some money.
I like Nicki Minaj too, man. Nicki hard. She real good. Her lyrics is sick. I mess with French. French hard. More than likely, I am gonna get something from French. I like French, I like his hustle. One thing about French is he the type of dude that he knows how to put a song together. French Montana, he the type of dude—since he's on that New York hustle. I noticed about him that he don't get caught up. French Montana's a street dude. He's street as a fool, but he don't criss-cross that up with business. He's smart.
What's the status of Three 6 Mafia's Laws of Power. Is it shelved?
I don't know how they are gonna do that because right now Juicy on his solo thing. It may happen. They got a little situation where they are negotiating money-wise. I don't know. I know that it's not going to happen this year.
What do you think it would take for them to come together?
I mean, it would probably take Juicy to go sit with Paul and see whom they are going to distribute it with. You know, something may happen. As long as there is a piece of money, and a few companies have asked. They have inquired: 'Y'all want to do anything with that? Y'all want us to push the project?' Juicy's like, 'Nah, not right now.' But, he'll mention something in a minute.
You ever keep in contact with the old Three 6 members like Crunchy Black or Lord Infamous?
The only person I have a relationship with like that was Lord Infamous. The rest of them … I mean, we was cool, but I just really worked with them. I never knew them like that. Me and Lord, we just kind of got cool. We was cool like he was a kin of Paul and I was a kin of Juicy. So it was kind of like we got cool like that. It was really kind of like them three and I would just be coming around. It was them three at first. Three 6 Mafia was them three. Juicy always says it was three people and then it was three more. Then it became six. It was them three at first, but I would come around but I wasn't really part of the group. But I would come around because he was my brother and I was there.
I used to meet up with Lord Infamous sometimes not on work. We'd be in the streets bumping heads, over at different girl's houses and stuff. I'd drop him off somewhere. We used to kick it a little bit. Me and Lord. When I got locked up and got out, everybody was on. I was glad for them. I met everybody else then. I didn't know them, so I was kind of cool with him. I had lost contact with him but he's signed to Lil Wyte's label.
There were some times when I bumped heads when I was out of town or in the studio. I used to go to their studio a lot. Him, if I ran across him, we'd probably be talking. The other ones, I'd probably see them. You know, "What's up. What's up." But, nah, I didn't really just know them like that.
Lastly, what is Blue Dream?
Blue Dream is weed. Sour Lemon Diesel. Blue Dream. Gorilla Purple. I can show you some pictures. [Laughs]