Big Sean, "Tenacious D" (Originally Published December/January 2013)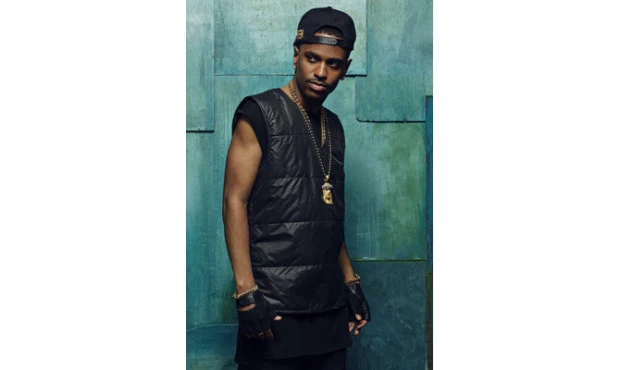 Currently, that story is one that's often rather grim. Sean's mom, Myra Anderson, a woman he credits as his greatest influence, speaks on the phone from the D, where she's waiting for renovations to be completed on the suburban condo her son bought her. "We don't have a major department store in the city anymore," she says, with a sigh. "We don't have a major grocery store chain. It's kind of bad right now."
That may be an understatement. In 2008, Mayor Kwame Kilpatrick, during his second term in office, became entangled in accusations of corruption and resigned after pleading guilty to two counts of obstruction of justice. In 2010, he was sentenced to five years in prison for violating probation. The city's violent crime has dipped 10 percent this past year, but still remains five times above the national average. In November, city officials warned that the city was in danger of running out of cash before the New Year.
The government's woes reflect those of the city's citizens. The most recent Census found that 35 percent of Detroit's 750,000 residents, 83 percent of whom are Black, are living below the poverty rate. That first number is staggering. Up almost 10 points in the past decade, it's two-and-a-half-times the national average of 14 percent. Chicago and Baltimore, by way of comparison, have poverty rates of 21 percent. New York's sits at 19 percent.
Meanwhile, more than a quarter of Detroit's inhabitants are younger than the age of 18. Those are the very same youths that make up a bulk of Big Sean's demographic. The very same youths who are subjected to a deteriorating local infrastructure and public school system—85 former school buildings are currently listed for sale on the Detroit Public Schools' website. It's an initiative reflective of the problems, the rampant closings, but also the effort to redevelop and rejuvenate. Sean, too, through action and music, aims to help.
"It's getting to the point where I really wanna just start giving back to the city," he says, noting his recently founded Sean Michael Anderson Foundation, which his mother helps to run. "They closed more than 20 schools in Detroit. It really inspired me to do better and try and contribute what I can. I saw [former NBA star] Jalen Rose opened up his own school, and that was inspiring to me like, 'Damn, maybe I can do that one day.' I ain't super rich or nothin', but I'm probably way more well off than a lot of people."
It's the type of thing that does a mother's heart good. "I'm really proud of him because he really wants to give back," says Mrs. Anderson, whose work with the foundation focuses on aiding school-aged children in Wayne County, where Detroit is, as well as neighboring Oakland County and Macomb County. "He kind of had mentioned this maybe a year and a half ago how, 'Maybe I can do a concert and donate the money.' So we started kicking things around and out of that the foundation is coming. He feels he can use his following and his influence to bring attention to things here in the area."
That influence has already proven far-reaching. Among fans and peers, he's pioneered rhyme styles (most notably, the now ubiquitous word-skipping simile, i.e.,"…Line after line after line/Barcode…"), fashion trends (TI$A snapbacks, handkerchief in t-shirt pocket), and ushered in new hip-hop lexicon through playful adlibs ("Boi," "Swerve," "Oh God."). Liles sees the possibilities of Sean's platform, too. "It's what we heard when we first heard about Master P or Cash Money," he says. "And when we first heard about Def Jam, and when we first heard about Roc-A-Fella, or Too $hort. The way that people told the truth that they were livin'—not what somebody else was livin', but the way they were livin'. I think Sean gives that perspective, from Detroit."
Mrs. Anderson's maternal sense of protectiveness comes to the fore. "I don't want to lay the weight of the world on him, or the weight of the city," she says. "How's that saying go? To those whom much is given, much is expected. I believe we are really all one, and we are all connected. That's probably something I've passed on to Sean."
Sean sees his success as an extension of his youth. It's how he was raised. "I just find myself like an honest son of the city. I'm somebody who grew up in the 'hood, had a good head on my shoulders, always did good in school, always would put my mind to something and get it done."