From The Archives: Killer Mike, "New Breed" [Originally Published July 2003]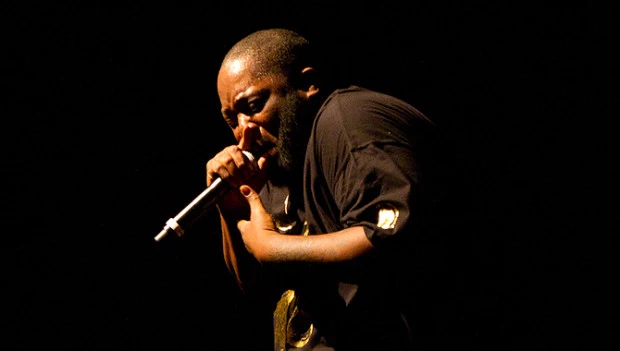 Last week, Killer Mike and El-P unleashed the first collaboration "Get It" off their upcoming collaborative project Run The Jewels. Although this isn't the first time that the two MCs have linked up – that would be last year's stellar R.A.P. Music – Mike's career trajectory has been interesting to say the least. Now, XXL looks back to one of its earliest interviews with Killer Mike from ten years ago in July 2003 when he released his debut album Monster.
His biggest hit to date is about the pleasures of flesh, but Killer Mike's story is much deep than that. With more ghetto tales than your average studio gangsta, OutKast's offspring is here to save the rap game.
Written by Michael A. Gonzales
Taking a brief breather during a magazine photo shoot, deep-voice Killer Mike relaxes for a moment in a black leather booth. Inside the Atlanta nightspot The Riviera, with its kitschy Las Vegas motif, Mike stares at one of the high-heeled, phat-bottomed models prancing across the star-patterened blue carpet. On the wall across the room is a 3-D mural of Vegas' finest, the intoxicated cool of the Rat Pack ("What's up, Sammy!") flashing their wicked, painted-on smiles in approval.
"Most dudes that come to Atlanta always want to go to the strip clubs," says the author of the infectious boogie "A.D.I.D.A.S." ("All Day I Dream About Sex".) The second single from his debut Monster, this track has had folks from six to 60 shimmying to its bouncy beat. Known primarily for his collaborations with OutKast, including the Grammy-winning single "The Whole World," A-town's latest country grammarian, Michael Santiago Render, gulps an aqua-blue drink that resembles toilet bowl cleaner on the rocks.
"Man," he says, nodding his cranium to the Brooklyn boom of Jay-Z blaring from massive speakers. "I been going to them spots since I was 15 years old. i even got my first blowjob in this gutter-ass strip club that looked like my uncle's basement. It was called monetary."
Looking more like a burly bouncer than the latest Southern supersar, Killer Mike finishes his plastic cup of Hpnotiq mixed with Grey Goose vodka. A sly grin brightens his face as the hulking rapper takes a trip down mammary lane. "To this day, I swear that my homeboy paid the chick," he says. "But he has always denied it. All I do know is one second she was giving me a dance, the next her hand was in my pants and then – blam – I was a man. After that, I was gig on head missions all the time. I was addicted to head."
"When your 15, it's cute watching girls shaking their ass," says Mike. "But you have to understand the brutal truths that these girls live. A lot of them are dealing with mental issuers or they've been raped or their daddy's done fucked them when they were children. That stuff that sobers one up about the scene."
While he shares his stores of sin freely ("I once had a hooker for four of us in the back of a Buick Skylark") Killer Mike has never been one to romanticize. Not the pussy nor the guns, the drugs nor the money. Indeed, as the latest fire-breathing dragon to escape from the Dungeon Family (OutKast, Organized Noize, Goodie Mob), Killer Mike is all about true life experience.
"I like old chicks now," he says with a hearty laugh. "A dude can learn a lot about sex from older women; they're more comfortable with their bodies and they're more willing to try shit. I'm down for Stella to get her groove back – her neck and her crack. And that's real, goddamn."
With the recent release of his solo joint Monster (Aquemini/Columbia Records), an autobiographical document of his 28-year existence in the dirty South, Killer Mike pays rhythmic homage to his hip-hop heroes – Kilo Ali, Afrika Bambaattaa and N.W.A., among others. "When I was a kid my grandmother used to take me to a Pentecostal church," recalls Mike. "I hated going to church, but I was into the music and listening to people's testimonials. When I started working on Monster, I knew I wanted it to sound like me testifying."
As his Aquemini labelmate Slimm Calhoun, who first met Killer Mike during OutKast's Stankonia sessions (Mike made his debut on the classic album's "Snappin' & Trappin'"), notes: "With Mike, there is such honesty when he talks to you about his life, the last thing he could ever be in front of the mic is fake."