Rappers React to Underground MC Eyedea's Unexpected Death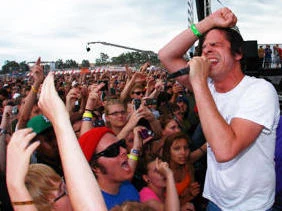 Micheal "Eyedea" Larsen, a renowned battle rapper and recording artist for popular independent hip-hop label Rhymesayers, mysteriously died over the weekend, according to the Minnesota's Star Tribune.
The 28-year-old St. Paul, MN native, known for his work with partner DJ Abilities, was found by his mother, Kathy Averill, in his home on Saturday (October 16). While Ms. Averill is currently awaiting the results from the autopsy, she believes her son died in his sleep.
Many of the MC's associates took to twitter today to express their condolences. "We lost our dear, beloved, genius brother Eyedea the other night," fellow Rhymesayers MC Brother Ali wrote. "Tears and tears. I just can't describe it." "RIP Eyedea," Immortal Technique wrote. "Goodbye my old friend."  El-P added, "Sad fucking day."
Eyedea made a name for himself by winning a handful of rap battles, including 1999's Scribble Jam in Ohio, and 2000's Rocksteady Anniversary and the Blaze-Battle World Championships, among others. He soon linked up with DJ Abilities and the duo formed a friendship with fellow Minnesota outfit Atmosphere, signing to their label, Rhymesayers Entertainment. Dubbed Eyedea & Abilities, the group released three solo discs on the imprint, including 2001's First Born, 2004's self-titled LP and last year's By the Throat. As a solo artist, Eyedea also recorded 2002's The Many Faces of Oliver Hart, which also showcased his talents as a producer.
Eyedea's mother is in the process of putting together a memorial with Rhymesayers scheduled for Nov 9, which would have been the rapper's 29th birthday.
Stay tuned to XXLMag.com as more information becomes available. —Elan Mancini