Young Jeezy Really Does Motivate the Thugs… And Backpackers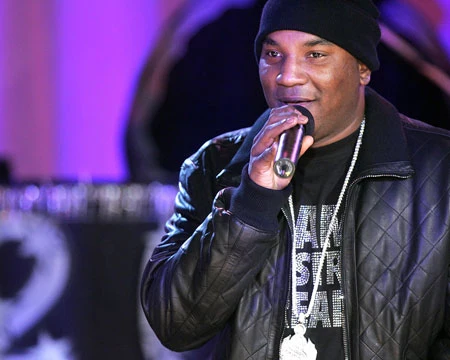 Waddup, y'all, once again it's Skyzoo checking in for the second installment of my XXL blog. Off top, pardon my absence, I've been on tour for the past two weeks, which made it difficult to sit down and put together a new entry for the site. Shouts to my man Anslem for being mad understanding with the delay. Now that I'm home, the entries will come out on a more consistent basis.
Shouts to everyone in all of the cities that came out to the shows throughout the tour, which featured myself, Pharoahe Monch, Smif-N-Wessun, Sean Price and Buckshot. It was crazy to say the least. From having no days off and living off of IHOP, Waffle House, and more Waffle House, to Orlando and Baltimore having the livest crowds (no knock to the other 13 cities that went nuts, though), to watching South Park "Imagination Land" and "Killer Beans" DVDs over and over in the tour van because that's all we had, tour life is definitely what you can imagine, and then some.
The dope thing about being on tour is watching how the music connects to different people every night, and which cities adapt to which records. D.C. and Baltimore were all over records from The Salvation, while Rhode Island and Boston knew every word from the records I did off of Live From The Tape Deck. For the record, though, EVERY CITY WENT STUPID off of "Speakers On Blast," so shouts to !llmind for that 808.
Being able to rock a crowd and then sit back and watch the rest of the Duck Down crew get busy, and jump back on stage with Sean P and do some hypeman work on certain songs, and having Buckshot call me back out on stage to freestyle with him, to me doing the hook for "Who Got The Props" at the end of every show is definitely what the perks become when you sacrifice sleep. I probably should be asleep now, as I'm still running on fumes and haven't recovered from the road yet. So with all of that being said, it made me think about some of my favorite tour memories, as a fan. Certain shows I went to throughout my life that directly impacted me and stuck with me from then on.
As an artist, you go to a ton of shows. It's almost a nightly thing. You find out so and so is rocking at Highline Ballroom or Public Assembly or something like that, and you roll through.
Simple as that.
But as a fan coming up, going to a show is a moment. For me, a moment came in 2005 when Jay-Z and Nas came out onstage for the first time together since deading "The Takeover/Ether" beef. It was rumored that Nas would be popping up as a surprise, but nothing was confirmed to the people. When they came out, shoulder to shoulder, dapped up, and adlibbed each other's records, it was historic. But to me, that wasn't even the moment. I had seen both Jay and Nas perform tons of times individually, and as epic as "the dap" was, the moment for me was when a rookie named Young Jeezy came out and did some jams from his debut album.
Back in 2005, I respected what Jeezy was doing and the movement that was being created, but I wasn't a diehard fan like the rest of the world. At the time, "And Then What," "Soul Survivor," and "Go Crazy" were controlling the radio, and NY was in a frenzy for Young Jeezy. I definitely respect the direction of the content and what Jeezy represented, but I wasn't flipping out like everyone around me was.
My cousin Beezo (RIP) from Brevoort had a hook-up on some tickets for the NJ show where Jay was supposed to bring out Nas, along with like 10 other artists (a rookie named Ne-Yo opened up. Time flies, huh) and Jeezy was on the bill as one of the other in-between acts. Beezo was a Jeezy fan and thoght I was crazy for not being into the movement. "Son, you from where I'm from, you know what it is. You don't like Jeezy? That kid is craaaazy"! I told him "I definitely dig it, but I'm not flipping out yet". And then we went to the show.
Lights out.
When Jeezy hit the stage and started running through TM 101 joints, I was hooked. Hearing the beats shake the walls, seeing the crowd lose it, the adlibs, Jay coming back out for his verse on "Go Crazy," I finally got it. It was a perfect example of "feeling the music." When he did "And Then What," Jeezy dropped the beat out and had the crowd of 10,000 people stomp and clap to recreate the "boom-boom, clap" effect of the record, I knew that I'd be spending $15 on TM 101 as soon as I saw a Virgin Megastore (RIP…SMH).
It was easily one of the best performances I've ever seen, and trust, I've been to a ton of shows. I later copped TM 101, listened to it for 10 days straight, learned the majority of the words, and put "do a record with Jeezy" on my to-do list as an artist.
So as I write this blog and bump Trap or Die 2 on the Bose (one of 2010's best mixtapes, easily), I say good looking to the fall 2005 concert that made me an avid Jeezy fan and supporter. With that being said, shows and tours do matter. See above for proof of such. I'm sure some of y'all will fill up the comments section with your fav shows, tour memories, etc, so, speak on it y'all. 'Til next time, 100.
PS: As the NBA season begins (the absolute most wonderful time of the year), I'll state it right now:
Rookie Of The Year: John Wall
MVP: Kevin Durant
Finals: Heat vs. Lakers, Heat win it all in 6. LeBron James named Finals MVP.
Oh, and Rajon Rondo is the PG of the future. The new Isaiah Thomas, easily. (Let the comments begin. LOL).