Kanye West's G.O.O.D. Friday Songs > Most Albums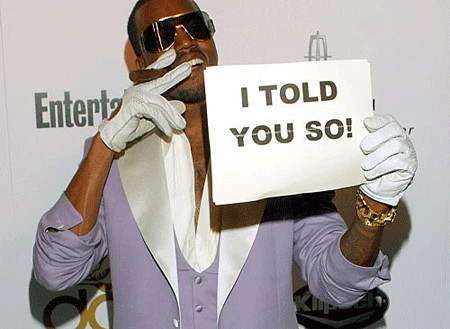 Kanye West didn't invent the weekly viral hip-hop series, but he damn sure perfected it.
When Crooked I spent 2007/2008 dropping freestyles with his "Hip-Hop Weekly" series, the Long Beach, Cali native revealed the Internet's power, developing a healthy buzz for himself. Since Crooked, the weekly freestyle format has helped many artists build a name for themselves. Granted, some MCs faired better than others, but for up and comers the weekly series established artistic consistency and when done right, helped build a fan base.
Then Kanye West came and changed the game when he dropped "Power (Remix)" on August 20 and announced that he would be dropping a brand new song every Friday and dubbed it G.O.O.D. Fridays. Surely a multi-platinum superstar talent like Kanye doesn't need to give away songs to build anticipation for his upcoming album, does he?
The week following the "Power (Remix)" drop, 'Ye brought Rick Ross, Jay-Z and Nicki Minaj along for the ride on "Monster." Now the viral track is climbing up Billboard's Hot R&B/Hip-Hop chart. It's kinda crazy when you think about it. Radio has been slow to react to most things not attached to a dollar bill. Not saying that, Def Jam hasn't been pushing "Monster," but if this song isn't going to be on Kanye's My Beautiful Dark Twisted Fantasy as we've been told, then why promote it?
During the week of 9/3 Kanye dropped "Devil in a New Dress," a solo affair that probably won't see any chart action but still a quality track nonetheless. "Devil in a New Dress" aside, it seems that West's G.O.O.D. Fridays series will be a string of all-star posse cuts. "Good Friday" (released the week of 9/10) featured Common, Pusha T, KiD CuDi and Big Sean, while "Lord, Lord, Lord" (released on 9/17) featured Mos Def, Swizz Beatz, Raekwon and Charlie Wilson. September 24's drop had Jay-Z, RZA, Pusha T, Swizz and CyHi the Prynce.
Seven tracks in and the G.O.O.D. Friday tracks are already shaping up to be better than most albums that dropped this year. Just judging from the features, Kanye isn't giving us mere throwaways. How much would an artist (not named Kanye) have to pay for a Jay-Z verse? So far we have gotten two for free.
Ultimately, I believe Kanye West's G.O.O.D. Friday releases will be both a gift and a curse. While the fans get some pretty dope tracks for free, up and coming rappers will have to find more creative ways to build a name for themselves, because I'm not sure who can top this. —Rob Markman