"I'm Better Than You" Breakdown [Part 3]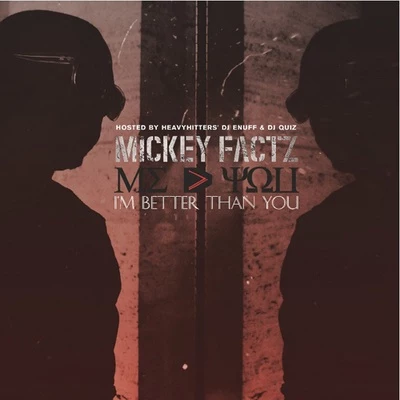 "Trinity" (Prod by Soundsmith & Neenyo)
Audio clip: Adobe Flash Player (version 9 or above) is required to play this audio clip. Download the latest version here. You also need to have JavaScript enabled in your browser.
The hook was already on this and I wanted to write about my ex-girlfriend. I'm deeply into The Matrix and I thought that naming my ex Trinity would be dope. I used auto-tune on this record because the record was so sonically futuristic. Never have I used it after. I thought it fit with The Matrix theme. I think people really love this record because of the honesty and sonic vibes that it gives off. I recorded this record a couple of times as well. But the last version is the best by far!
"Get By" Feat. Big K.R.I.T. (Prod By Big K.R.I.T.)
Audio clip: Adobe Flash Player (version 9 or above) is required to play this audio clip. Download the latest version here. You also need to have JavaScript enabled in your browser.
Steve-O and I felt like we needed an up-tempo record to show my hunger and kind of address my past movements and achievements to my critics. Big K.R.I.T.'s hook spoke to me in so many volumes. I love being able to speak my life into words. It's one of the easiest things for me to do. I talked about leaving school as well as me getting a national commercial campaign before I signed my deal. Those two things affected me the most in the past couple of months. I felt I had to let people know what was going on in my life.
"Skyscraper" (Prod by Precize)
Audio clip: Adobe Flash Player (version 9 or above) is required to play this audio clip. Download the latest version here. You also need to have JavaScript enabled in your browser.
My favorite record on the mixtape. I wrote this record previously and it was just me popping shit. I had a different hook and everything. I had to switch it up. What I did was crazy though. I turned it up and for 5 minutes poured my heart out on the track. Precize's production talked to me and let me know that I can be honest when I rap. I'm glad I met him. He knows exactly what I would sound dope over. It's the first video I shot and I'm glad that people love the record as well. Come on now, who doesn't want a skyscraper? Or to at least live in one? Them shits is hot and people love 'em!
"Melodic Nightmares" (Prod by M83)
Audio clip: Adobe Flash Player (version 9 or above) is required to play this audio clip. Download the latest version here. You also need to have JavaScript enabled in your browser.
I always have to end the mixtape on a serious level. M83 was a band that I discovered and I love with all my heart. I sampled them on the Dark Phoenix project. I also did on this show. I loved this song so much. My manager Saint wanted me to sample it and I did. I had to reflect and let the people know exactly what I'm Better Than You meant to me. It doesn't mean I'm better than every rapper, It just means I need to be better than myself— that's all. That's how I feel. I think it's a universal feeling that everybody can relate to.