If You Don't Know Me By Now… Pea's Gotta Have It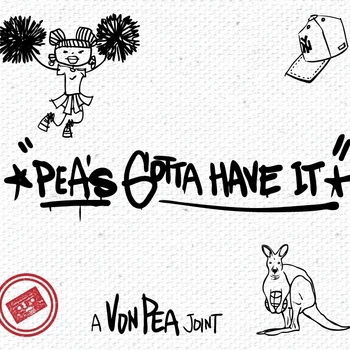 I've talked about all kinds of unnecessary shit all week. Well, not unnecessary, but the point has been to tell you something about me you wouldn't know from an interview. To let you know where I'm from, mistakes I've made, things I've gone through, stories I've collected. I figured it would make me less of an anonymous rap dude you could care less about.
Like you, there's more to me than what I've said here, but I'm a simple man. When it's all said and done, I like to take walks and watch TV while bullshitting on the Internet. On tour I do a lot more of that than watching coke orgies (that's the fifth day in a row I mentioned drugs! Salute me! What do I win?!?!?!?!). Now that we know each other a little better, time to sell you my album, Pea's Gotta Have It. Haha….
Actually, if you're reading this you've probably stolen heard the album already. I really do hope you like it and I'm not saying that to fake humility. I mean it. I spent three years working on it. Now go buy that shit! I get paid if you buy it! Well, eventually I do, anyway.
First of all, the artwork is designed by Joe Buckingham. Being the De La Soul stan that I am, getting him to do my art was a dream come true. He designed the De la Soul Is Dead cover! Come on now! He's done more than that, but that was the kicker for me. Originally, my album was supposed to come in a mini binder notebook, that's why the art looks the way it does.
On to the music. "Freestyle Live At Low Key's" is kind of a remake of "Freestyle Live at Mister Cee's" off of the best of Biggie mixtape. I chose to do that as a way to let people know exactly what kind of album they were about to hear. The sound quality is on purpose, too. The next track drives the point even more: You are officially in Brooklyn. Then, track three is called "The Yorker." Is the point nailed into your brain yet? This is my NY album. The album is even interrupted by a train.
This being my NY album doesn't mean it all sounds like DJ Premier. Songs like "We Should Be Rocking" exist. Out of all the features there are only two people from NY on the album. Everyone else is from the West, Midwest, South, or Philly. There's even someone from Australia—it's a NY album for everyone. Transplants, natives, people that never been to NY.
In my travels I always remember certain albums from certain artists when I'm in their town. I can't visit Chicago without thinking about Common's Resurrection. I can't visit Atlanta without thinking about ATLiens. I wanted that for my own album but I have one hell of a fight trying to be seen on Brooklyn's map. The list of BK artists is overwhelming. That's exactly why my NY album doesn't sound like any of the other NY albums. It was my only plan for standing out. Of course it's also about school. But like I said Monday, that's only because that's what my life was as a teen. I didn't want to dig into life away from school because a lot of that is either very boring or memories I don't want to put in song.
There are also a lot of women on the album. A woman produced "Ahead Of The Class," and there are four MCs that are women on the album. Someone asked me how that happened and I'm proud to say it wasn't planned. Keisha Shontelle was contacted to re-sing my horrible singing on the hook to "I Know We're Right" and she sent it back with a verse that I LOVED. Hearing her say she'll choke a bitch with her little voice was the highlight of my year. Haha… I know it's censored on the album but you get the idea.
Then, Uzoy (pronounced UZI) was next. She also came in to replace the verse I had talking as the woman in the song "There U Were." I figured why not have an actual woman write something instead of me speaking as the chick?
Jamie Cooley then sent me a beat via email one day like, "I made this and it sounds like something you'd use. Like it?" I wrote back "MUHFUCKA, I LOVE THIS SHIT, SON" and "Ahead Of The Class" was born.
Last but not least was "New Pair," the rap song about sneakers. Rappers and sneakers go hand in hand so 80 percent of us have made a song about our kicks. I ended my verse with a nod to grown women that are into sneakers ("I wore 'em to school/A grown woman said 'nice!'"), so I had to get Josie Stingray to play that part because she is the queen of Jordan 3's. Then Rapsody came in as one of the girls in this fictional high school talking about playing ball with her boyfriend in her kicks. Next thing you know I stepped back and there were mad women on my album. Awesome. Shout to Lee Sissing as well for bringing "We Should Be Rocking" to life.
Alright, I'm out of here. I'm going back under a rock. Thanks for reading all week. If you've dissed me in the comments I'm gonna be knocking at your door soon. I'm so sensitive and you hurt my feelings with your font selection and adjectives.
XXL, thanks for holding us down again. Since 2005. Please give the next Tanya Morgan album at least an XL. Haha!
Peace.