All Hallows' Eve: The Rap Edition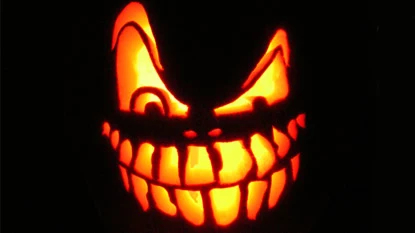 Without putting too much of myself out there I, for lack of a better term, am a cheapskate when it comes to many things. Save for my rent-slash-bills, the occasional pair of sneakers and bum liqueurs, I do not like spending a lot of money when I do not need to at all. Fortunately, things like good fashion – good fashion, not the stuff that lines Canal Street next to the African and Caribbean dudes hocking bootleg Gucci belts on the street – is relatively inexpensive if you look in the right places. While food is definitely a priority in life it is possible to find cheap and healthy eats, if not entirely difficult to do so. And music… well, we all know about that one.
With this weekend being Halloween, it provides the perfect opportunity to be as cheap as possible and still front like you're being "creative" with it. This year I'm either going to dress up as Bill Cosby circa 1984 (complete with gaudy sweater given to me by my mother in her odd quest to continue to try to "surprise" me with clothes), or steal some of a friend's "My Name Is" tags and go ham with those. I'm likely going to go with my first choice this year, however: a guest on the "Maury Povich Show." It's quite simple, really: all I have to do is scream out "That baby ain't mine! None of my family got a loose neck like that!" a lot, then dance around when I discover that the kid actually isn't mine.
Cheap, yet effective.
Halloween is that one day out of the year where it's all right to be something you're not, from women parading around in scantily-clad outfits they "purchased for the occasion" (*insert Cam True Mag Face*), to being a member of the Na'vi tribe [1]. This could perhaps be the perfect day for a lot of rapsters too, what with them getting the opportunity to portray as if they've had a successful career. Perhaps then those false boosts of self-confidence will either inspire them to become better and work harder at their craft, or just give it up altogether.
Here's to hoping it's the latter more than the former. I'm just saying.
[1] Although – according to how Rocsi looks on today's episode of "106 & Park" – that may not be the best idea for a costume. Yikes!