Why Kanye West's Album Shouldn't Leak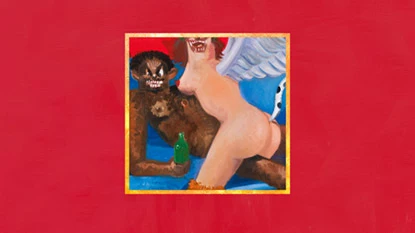 I, like most others, have been ecstatic about Kanye West's "G.O.O.D. Friday" series. Although they're clear throwaway tracks that are hastily worked on during the week leading up to its release, the end results are still light years ahead of most of the submissions I receive every day. Despite the failed/aborted attempt to flood the market with G.O.O.D. Music artists on the same day (which would have been a little over two weeks ago, for those keeping track), the G.O.O.D. Friday music drops have been at the very least a decent consolation prize.
To think, none of this probably would have happened had Kanye's album leaked back in June. As I'm sure you're aware of, what may or may not have been a password-heavy zipped file of 'Ye's upcoming, untitled album sprung a leak onto the Internets, which sent most of us (myself included) into a tizzy to try to "confirm" if it was legitimate or not. Eventually, the fervor over it died down once the G.O.O.D. Friday tracks started popping up, and most of us all but forgot about the damn thing in the first place.
That is, until an incomplete, unfinished song from the alleged zip file popped up on the Internets last night. The legitimacy of the track remains to be seen, but its obviously unauthorized release got me wondering when, or even if, the entire album will finally see the light of day, legally or otherwise.
To be honest I'd much rather not see Kanye's album leak prematurely, in its half-done state, and I know I'm not the only one who feels that way. Seriously, who actually wants to hear an unfinished album at all? It sounds bad, the beats don't hit like they should because they haven't been mixed and there's almost always missing vocals among other things. The last time something like this happened to Kanye, during 808s & Heartbreak's leaks, many of the songs' snares and kicks resembled that sound you hear in porno films when the guys' balls are slapping off the woman's hymen.
[||] to that entire line, visual and idea.
Besides that, who's really proud about leaking albums at this point? Almost every record that's dropped this year will have been leaked a thousand times over, so at this point the "art" of the leak resembles an unintelligible Rorschach painting more than anything. I mean, once it's leaked then what? More often than not the leaker was actually dumb enough to pay for the thing (something that used to be considered taboo but is now, sadly, about as commonplace as breathing, but more on that later), which means nothing if you don't know what exactly to do with it (usually by just giving it away for free or holding onto it the way a spoiled child never gives up a toy to share), which coincidentally is nothing at all. So what's the point?
Me, I'm waiting for Kanye's album to leak the normal way: a week or so prior to its release date, when employees at the pressing plant the album gets sent to swack a copy from the line and upload it to the Internets for the rest of the world to enjoy. Until then, I can easily do without uncompleted anythings at this point.