Soulja Boy vs. Fabolous: Beef Is Dead, Tweef Is Livin'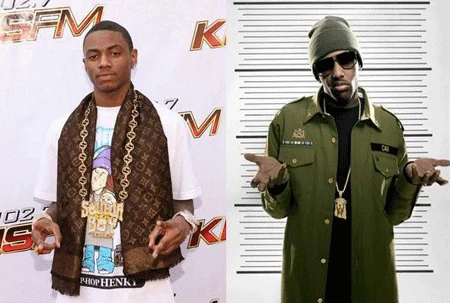 Last week, when I was holding down the XXLStaff twitter account, I somehow started talking about that Chappelle's Show skit where he envisions what it would be like if the Internet were a "real place." Classic. Genius. Hilarious.
Then, the other night, I re-watched the "Imaginationland" episode of South Park. Again, it was an actual manifestation of a world that exists, but doesn't really; a place where all the characters we had ever imagined in our minds were real and lived together. Again… Classic. Genius. Hilarious.
I'm not sure what Twitter would be like if it were a real place. If Chappelle remade that skit in 2010, he'd have to include it. There'd probably be people saying a lot of short, witty sentences. Everyone would be retweeting repeating each other. And then repeating each other's repetitions, adding three to five words of their own. There would be three times as many people standing behind Lady Gaga as The New York Times. And Fabolous and Soulja Boy would be battling.
When the Kat Stacks x Soulja Boy video surfaced a week or two back, Fab made some comments on Twitter, basically saying the videos shoulda been called Stupid Boy Swag. But he also said it was all fun and jokes, and he had no beef with Soulja; he just wouldn't be fuckin' with Kat Stacks himself.
At first, SB said nothin', but then late last night, he lashed out a little bit. He launched some classic shit talk, like, "I wish that fab would quit copying my swag damn he a nut rider i swear man." That's good stuff.
Fab couldn't believe it, "Yooooo!!! Jus had another crazy dream @Souljaboy was talkin shit bout me on twitter but then i woke up & went to his page, its nothin there." Maybe it wasn't at the time, but by this morning, either the words had reappeared, or SB had some new ones. Either way, he was retweeting his followers and their general sentiments of "Fuck Fab" and "You're a better rapper than Fab, Soulja Boy."
At one point, he issued a challenge: "I tell you what fabolous get yo weak ass on wax and spit them weak ass bars so I can shit on you boy;" adding, "I will murder that nigga fab in a freestyle battle he garbage compared to soulja boy."
Aight. Word. A freestyle battle between Soulja Boy and Fabolous. I'm with it. Let's do it.
As a rap fan, I'm ready to see it happen. Battles are always exciting. In this case, it's particularly intriguing because one dude has a shitload more Twitter followers, and the other is generally regarded as a better lyricist (oh, and 'cause it started on Twitter). How would that affect the outcome? How important would fan support be versus content? Whether they recorded diss tracks aimed at one another (yeah, right) or really did freestyle battle in person (yeah, right), it would be a moment for hip-hop.
But until Dave Chappelle comes back (yeah, right), Twitter isn't a real place, and we'll never actually hear Fab and Soulja battle musically.
This is the closest we'll come. —Adam Fleischer