Shyne Interviews XXL's EIC, Pt.2 [Raw & Uncut]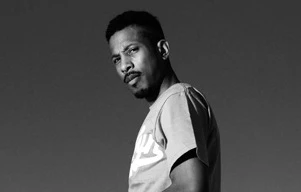 VANESSA: I don't know. Maybe, if Eminem came out with this project a year ago on the rollout and put Recovery where Relapse was supposed to be, maybe with that story and he didn't have that fake record in between, maybe he could have had the build up with his story and not talking yet. But that Relapse misstep in between fucked that up for me. So maybe, but you have to have such a story. Look at everything. He has five years of being gone, he had everything in between— the death of his friend, the break-up with his wife, how many times? His drug addiction, Katrina, a Black president, the recession, the war, politics in hip-hop, all of that was stuff to pick from and he made a fiction album about serial killers for his return. We needed something deeper than that. There's not that many people who have a hiatus with a story like that and anticipation for their return like that, who are set up with that moment. And Relapse didn't fill the moment. A lot of stars have to align.
SHYNE: And he still sold 700,000 without any of them shits aligning. So imagine if they would align. He would've did like 1.5. Bet that. And I wanna bet this, when the Damu Wayne get out, I bet you he do a million.
VANESSA: I'm curious to see. Maybe he could. Here's the thing about it. Us journalists, and this is gonna sound dumb to you but it's totally honest, we watch rappers and we see what happens. We're not ignorant. The record label guys aren't so much smarter than us. We've been documenting this for a while. So we see and we says, "Okay, they should make this move, they shouldn't make that move, they should make this move." And we watch the moves the rappers make and we say, "No, don't do that! Yes, do that!" And we watch what we think are the wrong moves being made and they are. Then we document it and it bugs us out cause we watched it being made and even maybe some of us tried to give warning signals. We have our opinions of what guys should and shouldn't do. And we watch, and we see them or their management or their labels advise them of what to do when we in our opinion think it's the wrong or the right move 'cause we've seen it. And so your moves that you make when you have a certain story in your hands, and I don't just mean a story that, "Oh, you're gonna give it to XXL." I mean, you have this story, you're in this position—Kanye has it right now, you have it right now, Wayne will have it when he gets out—you've been through a certain, whatever it is, Eminem had it.
Once you have that in your hand, however you handle and roll it out, if it doesn't get fucked up and you handle it well, then maybe you have the potential. Jay-Z—nobody rolls anything better out than Jay-Z. I'm not gonna sit here and jump on the Jay-Z bandwagon right now because that's not what this is about, but nobody rolls anything out better than Jay-Z. However, he never has that story that others have had. What if he had the rollout, and the perfect planning and everything and made the moves that he did for the rollout, but he had the story ridiculous story at the same time? Then maybe there's something crazy there. Because his team knows how to do it right.
So if Wayne came out, and they perfectly made the moves as far as when they put the album out, and they really plotted and planned everything he did just right—and I'm not saying I know what those moves are or that they must involve XXL, I'm just saying if they did it carefully and they did it right, then to me the potential's there for something fuckin' huge. But if it all goes to shit, and everything starts bouncing around, and this date gets pushed, and this person comes before him, and this interview happens on this site and that site and this blog and that blog, and gets pushed six months later and fans are confused. The shit's gone, the moment's gone, destroyed and there goes the million, I think. That's my opinion.
SHYNE: The thing is, I really do believe in man's mortality. So while I believe that a muthafucka can put the best brand together, it's really some metaphysical shit when you talk about stars aligning. Like no matter what you do, you can't make stars align. You can just set yourself up, and hopefully…
VANESSA: You're right, you're right, you're right. Might be too deep, but you're right.
SHYNE: That's in everything. Whether it's Michael Jordan and Phil Jackson, or fuckin' Kobe Bryant and Phil Jackson, to work hard and you hope that everything falls into place. You don't have control. 'Cause look at Tracy McGrady and fuckin' Yao Ming, you would think that's a match made in heaven and they would win a ring. But dude get hurt, the stars just not aligning. You can have, theoretically, the perfect fuckin' set-up, and it just doesn't work. But that's one of the things that's lacking just in general culture. Again, to get my humble perspective on shit, is that that sense of gratitude. That sense of mortality where a muthafucka understand, "Yo man, this shit might not happen." I think we take for granted that, "Yo, it's gon' pop." And the fuckin' heavens, whoever be controlling that shit up in that metaphysical world, be showin' us like, "Muthafucka, you ain't in charge of this shit. You ain't in charge of nothin'."
I think back in the days, comin' from Queensbridge or comin' from Marcy, or comin' from Shaolin, muthafuckas was grateful. Just grateful to be on the mic. Just grateful to be spittin' and performin' and seein' they little videos out there with the rest of the pop world. And muthafuckas wasn't thinkin', Yo, I'm supposed to do this or I'm supposed to that. Or they wasn't really sellin' themselves like that. They were just musicians who just wanted to make their music and have their music recognized by the masses. Like they were grateful. I think it was a lot more, Thank God. Man, God is good. Wow, I'm grateful, man I can't believe this!
Now, I think it's some real, Yeah, whatever. I rap. I got this. Nah, muthafucka. Nah, it don't work like that. This some shit, you supposed to knock on wood and be grateful, man. And maybe that's why the faith for the fuckin' music has gone for the worst. 'Cause muthafuckas ain't grateful no more. They just really think that this some shit that's due to them. And they supposed to pop. They supposed to sell 500 to a million the first week. And I think the heavens is showin' us, Nah, nah it don't have to go like that.
What do you think?
VANESSA: I think that it could be part of that. I also think that and I know I sound like a broken record, but I think technology plays a role with it. The fact that you can be in your house making a record and you don't have to go in and put in that work of going to the studio and trying to battle, and trying to get on, and trying to be put on. You can be in you house, and be in your living room or in your mom's basement, and you can take something and throw it online and make a song that way and be hear and create a fan base.
That changes the element of work that you put in or how you got on. It's a big difference. It changes the artists. But I also think that we're in a little "i" generation. Fuck you, go to my MySpace, go to my FaceBook, follow me on Twitter, did you see my so and so? Go to my this and that. Look at the photo I took of my bullshit. It's all about "me" more than ever. So because of that, I think people care less about you— whoever you are. Whether you, as a celebrity, as a general person, in general I think. "Well, I'm more focused on us." People, more than ever, want to be stars. And they see that there's a possibility with reality shows, and they see there's a possibility with Internet stars and all that, and there's an obsession— not with everybody—but more people than ever with mainstream culture to be self-centered.
That controls things to a big degree. That's on a mainstream level and I do think that that affects hip-hop. And you see that within the music, and how things are executed. You don't see the passion go into things that you used to. Now everybody's e-mailing each other these verses. They don't get in the studio like that anymore. You know how one song turns into three because you guys are spending the night together in the studio and it just is goin' and it's goin'? Whatever it turns into organically, there's nothing organic about an e-mail exchange like there was organic shit about studio interaction. And I think that hip-hop is missing that. It's starving for the creativity that it was built on. For human interaction that made it. Because it's being replaced by instant gratification. Forget press play, press send.