An Unexpected Byproduct of Kanye's "Power" Portrait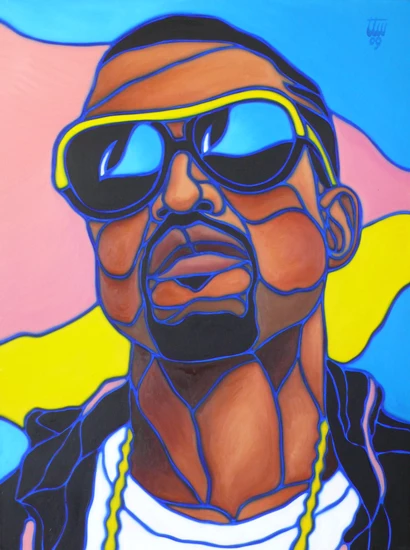 Heading into this past weekend, the last thing on my mind was Greek mythology. But then Kanye West's video/portrait/teaser/I-don't-know-what for "Power" premiered, changing the game that I called workfree-Saturday-and-Sunday. I found myself researching Damocles and Dionysius the Elder, looking at paintings starring Ajax and his Trojan-prisoner-killing ways, figuring out why Zeus would disguise himself as a swan to bring Leda to bed and reading the words of author Nathaniel Hawthorne that expressed the importance of understanding older mythology before embracing modern literature. All of this derived from Kanye's 90-second "Power" clip—fantastic.
See, the thing about me is that I'm a sucker for complex product. I'm the guy who's watched David Lynch's 2001 brain-scrambler of a film Mulholland Drive upwards of 20 times just so I can reassess its central plot over and over again. The chap who devours the writings of scribes like Chuck Palahniuk, H.P. Lovecraft and Ramsey Campbell in order to decipher how they construct such intricate prose (a daunting task if ever there was one). The hip-hop head who prefers artists such as Eminem and Lupe Fiasco over whatever else is on the radio these days because MCs of their ilk demand sharp ears, and offer newfound similes and metaphors each time any given verse of theirs is heard. I love a challenge, specifically when it comes to art in its various forms. Sure, I get drunk on weekends and enjoy a dumbed-down song or two while standing alongside a bar, but that's because, as anyone who's ever suffered from a hangover knows, alcohol impairs judgment. Take the booze away, and "Teach You How to Dougie" is akin to Freddy Krueger's finger-blades piercing a chalkboard.
But enough about me. Let's get to the point already.
After seeing "Power" for the first time last Thursday night, the first thing that came to mind was, oddly enough, the album cover of former Non Phixion member Goretex's 2004 solo LP, The Art of Dying.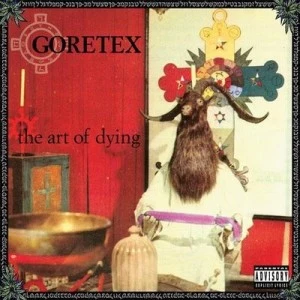 Non Phixion, if you're unfamiliar, was a trio of dense lyricists from NYC: Ill Bill, Goretex and Sabac Red. I could go on here about how underrated their 2002 record The Future is Now is, but that's a topic for another post. Just realize that the album features beats by DJ Premier, Pete Rock, The Beatnuts and Large Professor (dynamite), and is anchored sonically by Ill Bill's blood brother Necro (heavily slept-on as a producer). Highly recommended.
The Art of Dying and "Power?" Probably not the parallel you were expecting.
The connection, to me, is clear: both the cover artwork for The Art of Dying and Kanye's "Power" video are jammed with striking and difficult-to-pin-down imagery, visuals that, frankly, supersede the music itself. "Power" the song fits the imagery quite well, but now that the video has shown itself, it's what's bouncing around in my head more so than the actual song. The same goes for Goretex's album, which I'm a huge fan of musically, yet an ever bigger fan as far as the artwork is concerned.
In fact, The Art of Dying just might be my favorite album cover of all time. I remember October 2004 vividly. I'd interviewed Goretex for a hip-hop website, and during the chat he mentioned that his intention for the album's cover was to put something in the marketplace that felt like a relic, in ways; like something that you'd come across in a dollar bin and think, "Damn, when the hell did this come out?" He succeeded, if you ask me.
Like I did with "Power" this past weekend, I spent the weekend of October 29, 2004 researching the hell out of the cover image, which is, if you haven't figured it out already, seeped in occult imagery. For instance, the moose-looking (or is it more goat-like?) creature seems to be the Horned God of Wicca, a staple in the world of witchcraft. To be honest, though, I've yet to fully comprehend what's going on; to me, it's an elaborate set-up of random props and religious paraphernalia that Goretex and his crew scrounged together and took photos of in someone's Brooklyn basement (he's from BK, as far as I know…he's kept his background somewhat enigmatic). The other possibility is that Goretex, and/or Necro (the album's sole producer, and head of its record label, Psycho+Logical) dug up an old photo from some cult database or something. Whatever the case is, it's all good with me—I may not totally know what's going on in this picture, and I'm certain it's a bunch of mumbo-jumbo, but that doesn't mean that I don't appreciate its evasiveness and sheer weirdness.
Kanye's "Power" portrait isn't the only thing that's brought his image to mind recently, though. All of this "illuminati" chatter dominating message boards, and forcing Jay-Z to speak out against it in R&B songs (Usher's "Hot Toddy"), brings The Art of Dying to mind. I'm expecting folks to see this cover and think, "I don't know who this Goretex cat is, but obviously he's a mason," or something to that effect. Do I have any opinion on the matter? Not at all. I'll save all that for the next guy. I look at this pic and feel nothing but atmosphere, befuddlement, discomfort, an itch to delve deeper into the imagery and general fascination. And, except for the "discomfort" part, those are the exact same things I take from Kanye West's "Power" video.
You know what's funny? I literally started typing this post with an entirely different theme. I planned on using The Art of Dying and its connection, in my mind, to "Power" to assemble a list of "albums that aren't as interesting as their own cover artwork." I had the following entries in tow: Jedi Mind Tricks' Legacy of Blood (alternate title could've been: The Fire in Which He Burns) Hell Rell's For the Hell of It (bullet-tooth wallets), Mercedes's Rear End (did No Limit's unsung queen rap or sing? Does it matter when she's spread eagle on the hood of a car?), and, perhaps the granddaddy of them all, Big Bear's Doin' Thangs (which speaks for itself, below).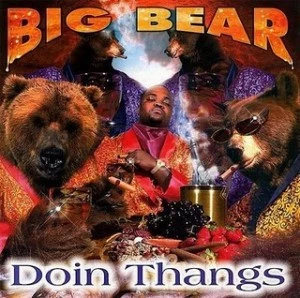 Goretex's The Art of Dying is one of my favorite album covers ever for reasons completely different than why I've always adored Big Bear's LP packaging. Has anyone ever even listened to Doin' Thangs? I know I haven't—I don't want to risk tainting my affection for the album's cover if the music itself is a collection of ear-sores.
I think we can end on that note. —Matt Barone