What's Kanye West's Third Best Album? – "808s" Don't Count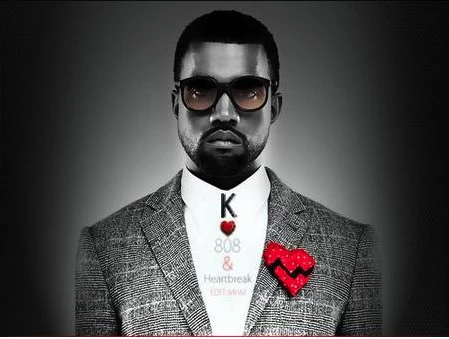 Kanye West makes G.O.O.D. Music. Actually, he makes pretty damn great music. Over the course of his career, the Chicagoan has continually released projects that pushed the culture forward both musically and lyrically. He's a self-proclaimed genius and, while most gave him the side-eye when he initially talked about making the switch from producer to MC, it's kinda hard to argue with him at this point in the game.
'Ye made his solo debut in 2004 with The College Dropout, which earned a perfect XXL rating from this here magazine right out the bat. Lightening struck again, when his sophomore effort, 2005's Late Registration, got the same high praise. Not since A Tribe Called Quest (or Sam Cassell), had a rookie achieved consecutive crowning glory right out the gate.
While Kanye's third disc, 2007's Graduation, didn't earn him a hat trick (oh, yours truly wrote the review by the way **shameless plug**) it was hands down the album of the year. More remarkable than what rating 'Ye did or didn't receive, the true testament of the project's impact was the fact it bested perennial hip-hop bully 50 Cent's Curtis during their promotional showdown on 9/11.
Rightfully, so the word "classic" was usually thrown around whenever someone brought up the Louis Vuitton Don's catalog.
And then there was… 808s & Heartbreak.
For the most part, traditional rap fans panned the AutoTune-filled disc because there was more singing than rapping, but, personally, I loved it. In fact, I even professed my love for the disc HERE before the album even dropped.
Now, I know I'm in the minority but 808s & Heartbreak might just be my favorite Kanye album. Yeah, it was emo-heavy and the man can't really sing, but the music was insane and what he was saying was some of the realest stuff to me. It's kind of like what Murs said in his emo vlog a few weeks ago, it's like American society refuses to accept a Black man expressing anything other than anger.
Well, I do and I embrace different.
With that said, I for one wasn't mad at 'Ye or his experimental project, which bared his soul for the entire world to critique. Still, I, like everyone else, was ready for Mr. West to get back to rapping and his original idea of a four-part album series (The College Dropout, Late Registration, Graduation then Good Ass Job).
Although according to @KanyeWest his upcoming album is getting a new name; whatever it's going to be called, people are bringing up the C-word once more.
Following a self-imposed hiatus, the rap megastar made his triumphant return to his roots with the aptly titled "Power." The song immediately erased any tarnish that had befallen the Kanye West brand after the Taylor Swift incident at the last year's VMAs. Then, earlier this week he popped up at both the FaceBook and Twitter HQs to spit a capellas from the new album for the respective staffs (When do we get our show, 'Ye?). Even without a beat, people are anticipating yet another classic outing from Kanye.
Okay, so here's where I swerve left…
When it comes to someone like 'Ye, with a near flawless catalog, there has to be a chink in the armor somewhere. Even if you feel that all his albums are certified classics, one of them has to be your favorite. As a result, that would mean one has to be the lesser of greatness by default. It's simple mathematics.
You already know how I feel about 808s & Heartbreak and I'm sure y'all will have no qualms telling me how crazy I am for loving it, but besides that disc, which is your least favorite Kanye album? With three classics in the catalog and a possible fourth (or fifth in my case) on the way, it's a tough decision to make.
If I had to place Kanye's catalog in order, this is how I'd rank them from greatest to slightly-less-than-greatest:
1. Graduation
2. 808s & Heartbreak
3. The College Dropout
4. Late Registration
Graduation is excellence at its finest, I already told y'all how I feel about 808s & Heartbreak, and The College Dropout set everything off. While I love Late Registration just as much as the rest of the catalog, by default it's Kanye's less best, IMHO. And I use the term "less best" very lightly because it's such a great album, too.
I know most would peg 808s & Heartbreak as being 'Ye's "less best," but if you take that album out of the equation; which album would you put in that bottom spot? Speak on it. —Anslem Samuel
id="134″]