Starting Five, Dead or Alive – If Rap Was a Sport Who'd Be MVP?
CENTER: Busta Rhymes
(Moses Malone's power/Hakeem Olajuwon's moves)
Equipped with a "bend, but never break" mantra, Busta is perfect to round out this juggernaut. Busta's heft on the mic is eternal and he knows how to change it up without delay. This is what your center needs to be. The opening tip is his and the fourth-quarter plays out like a one-sided brawl in the paint. However, with physicality comes the moments of grace. The arsenal of styles Busta has developed over the years is one to behold. At times comedic, other times all business. Plus, I see him moving in perfect time with "The Scenario."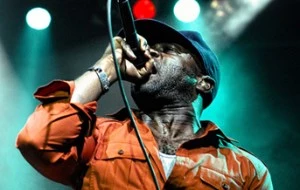 SIXTH MAN: Black Thought
(Vinny Johnson's readiness/Kevin Garnett's heart)
This stalwart from Philadelphia never backs down. The role player who could lead anywhere else; Black Thought's preparation is what makes him the final piece of this puzzle. He can rock the crowd over a beat or a live band. Run and gun or full court press, he's the man who will do it all. Even when he cools off, Thought can regain his hot hand after a few bars. LeBron can't do it all, but a phenomenal man off the pine takes the load off of his multi-million dollar shoulders.