"Can't Stop Now"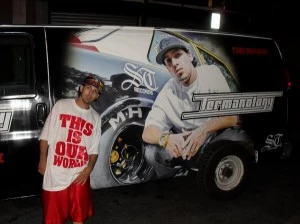 XXL whats poppin'?
Blog # 4 already.
Shout out to all the cats that posted comments about my top albums list. I admit I missed a few cats. Its all good, I'm hype to see where 4th quarter goes.
I want to hear those Eminem/Just Blaze songs ASAP! Also going to go buy that Royce CD: Street Hop. I'm sure it's going to be fire. I also forgot to mention my mixtape albumTime Machine. Don't sleep on that, it's a banging cd.
But today I brought ya'll a brand new exclusive track…. It's called "Can't Stop Now" off my man DC the MIDI Alien's album Avengers Radio Vol. 1. If ya'll don't know about DC that boy is a problem on the beats and the cuts. Hope ya'll enjoy the song.
Audio clip: Adobe Flash Player (version 9 or above) is required to play this audio clip. Download the latest version here. You also need to have JavaScript enabled in your browser.
 
So as ya'll probably know by now, I've been working hard body on this 1982 album. I wrote this new song called "Still Waiting" the beat is insane. Look out for that coming soon.
I'm out gotta hit the car wash and clean up the new Termanology wrapped van. Until next time ya'll be safe and hit up the site…Termanologymusic.com
Peace
TERMIE MONTANA/ST.