Man On The Moon > Martian…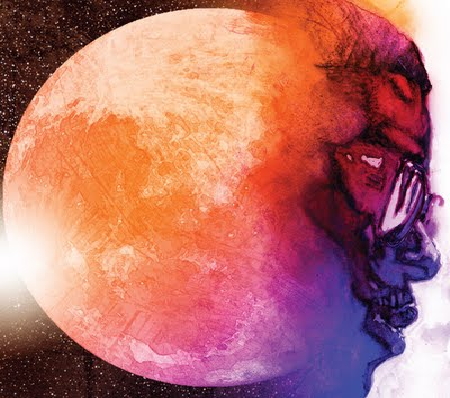 Who the hell thought being a Martian was some fly shit? We don't even know if there are any advantages to being a Martian either other than being pwn3d by Bugs Bunny.
For my money, I'd rather be a robot or a man on the moon. Being a man on the moon just gained some more exclusivity too since the famed lunar walk in 1969 may not have actually happened. Let's all be honest and admit that after looking at the picture of Lil' Wang giving Baby a close-eyed mouth to mouth kiss the planet these two are coming from is prA'li Uranus. [ll].
Super-uber [ll] to rimshots.
I was fuxing with Kid Cudi from the start. Back in 2007 the song 'Day N-Nite' was the hipster trip-Hop anthem of the summer. The Crookers remix was mah sheeet. It was quirky rap song that made me smile. Rap doesn't have to be so angry all the time. Sometimes it can be introspective, or reflective or simple. Simple as that.
On the first listen of the Kid Cudi album I wanted to say that this joint was 808's Deux, but after a few spins I want to call this joint the continuation of Graduation. Grad school, if you will. Cudi is the carefree MSAT. It's like getting a grad degree by doing a thesis on what happens when you get hopped up on psychedelic drugs and stare at a Takashi Murakami painting for 12 straight hours. I remember being on mushrooms and watching the homeshopping network for an entire day. I nearly bought about fifty fugazi gold chains. Because they were really golden looking.
The Man On The Moon isn't about making bad decisions while your high. You won't be mouth kissing your mentor (who you call your daddy), instead you will be looking inside of your soul for who you want to be in this life. Kid Cudi reminds me of myself because he is like the kid that doesn't need anyone else on the planet to validate who he wants to be. Ultimately he is a loner who just touches down for a short while to connect with his peeps and then he blasts off again. The music from The Man On The Moon is that intergalactic punk funk that Common was looking to create for his last album.
Enter Galactic (Love Connection pt.1)
Common does a great job narrating the album like a tourguide through the Kid Cudi mental motherboard similar to the character that guided Bill & Ted through their most historical travels. The album is dope future sounds. It isn't for the didactic boom bap dinosaur rap fan. If you are a Robot x Roofies rap fan like me then you will enjoy this CD. The production from Plain Pat, Emile, RATATAT and of course 'Ye Tudda is all cohesive for this project. New Millenial New Wave rap never sounded better. There won't be another CD this genuinely eclectic or incredibly esoteric in a long time. After all, it has taken 40 years to put someone else back on the moon.
Endnote: This project had me the second I saw the cover art from Bill Sienkiewicz.