XXL's August Cover Is In The Bag…
It's been a long time since I had anything to write about Fab. Do I need to post the 'Throw It In The Bag' track like I do at dallaspenn.com? Is that what y'all are into now? I admit that I don't like this song and I also admit that when this shit comes on the radio I reflexively do the Cabbage Patch dance. I can't even stop myself (believe me I've tried).
I was stanned out the other night when my boss, er, supervisor, Carl Chery (we all know Vanessa Satten's the boss) let me know I had crossed over into the Hip-Hop publishing world's VIP room. I was on the list for the party that XXL was throwing along with Def Jam to celebrate Fabolous on the mag's cover next month. I was happy as fuck to be going to this party. Elliott Wilson never invited me to any XXL parties because he knew my reputation for open bars. Datwon Thomas never invited me to shit because he hates me. The only Dallas he fux with is Austin [ll].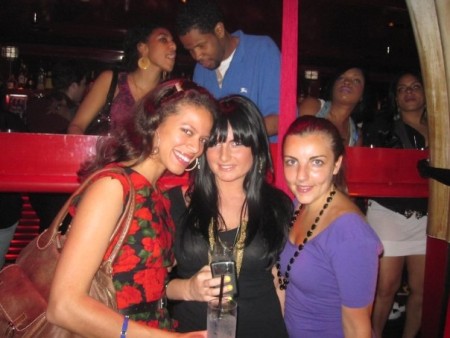 So I showered and put on some clean clothes for the shindig. There would be some magazine chicks in the building. These girls work so hard and they never have time to let the boys play with them. I'm definitely looking to cop feels on Clover Hope if she shows up. I like the way she writes. I ended up not meeting any young tender journalistas except for this one chick named Mariel Concepcion from Vibe magazine. If I had known that Vibe was assed out I would have attempted to console Mariel by offering her a free drink (and I would've copped a feel).
Sadly, the party wasn't as crowded as I imagined these industry things are and the free drinks were wamp-wamp. Patron with lemonade? Women are definitely running this rap shit. My homey Panama came through and beat me in the head for not coming to his 'Make It Last Forever' video premiere party. Panama is my dude and all, but I have a serious issue with buying liquor. If you want me to appear at your party you need to make sure I am drinking for free.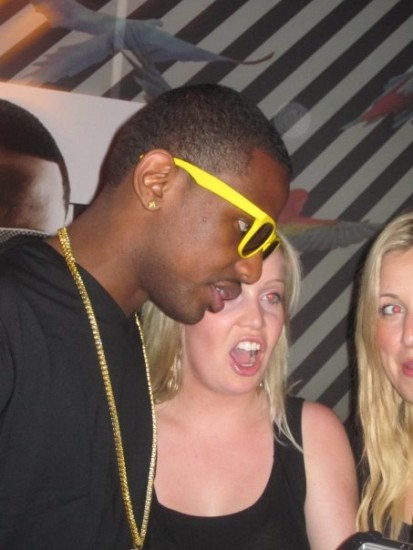 Another superstar in the building was Gabe T. who I want to say is the general manager over at Def Jam. When Gabe T. is working an artist he is working that artist. He's been excited about the Fabolous project for a minute, but then again he was excited about the Jadakiss and Rick Ro$$ albums too. I'm sure Gabe T. will be telling me to fux with the Juelz Santana joint later this summer. Even though the crowd was meager and lazy Fab still made his appearance. Fab has to be a good dude because he let some fugly chick hug his ass for a minute.
If I was a real life celebrity I wouldn't let fugly chicks hug me, but since I am only a celebrity on the internets I am down to hug any chick that wants it. Retarded with Down's Syndrome? Quadriplegic? Amputee? Leper? Hells yeah to all of 'em. I'm a sucker for love and free booze. Now that I am getting invites to the industry elite soirees I think its time I bathed on the regulack.