Clearance Sale – The 80s Movies Edition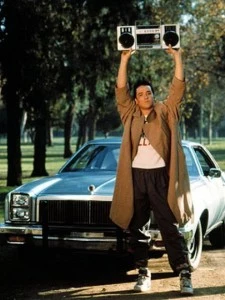 After giving B.O.B. VS. Bobby Ray a quick listen, the first thing that really stood out to me was the sample from "My Sweet Baby." While it was lifted from the classic cut "Love Is Strange" by Mickey and Sylvia,  Jackpot immediately associated the song from '80s chick flick Dirty Dancing. Word. Being a certified '80s baby, that got me thinking about all of my favorite joints used in the movies from that era.
You see I don't own a sampler. Never have and unfortunately probably never will. I always wanted to try my hands at putting together beats, but I just never got around to it. But for all you producers out there, I got a list of '80s movie bangers that need to get chopped up ASAP.
So without further ado here's five of my personal favorites that I think would be a perfect fit for hip-hop's current crop of MCs. Just remember you saw it here first.
1. Bunny and the Wolf Sisters – "Big Bad Wolf" from Teen Wolf
With Michael J. Fox's unforgettable dance during the prom scene this one has the Southern young'n's and the lil's written all over it.
2. Joe Esposito – "You're The Best Around" from Karate Kid
Come on Khaled, you should have been up on this chorus.
3. John Caffrerty and the Beaver Brown Band – "Hearts On Fire" from Rocky IV
While the official Rocky theme has already been used to death, this less popular, yet nonetheless inspirational jam is still up for grabs. Jeezy you know what to do.
4. Yello – "Oh Yeah" from The Secret of my Success and Ferris Bueller's Day Off
You couldn't escape this song in the '80s, besides being featured in both the above mentioned films, it was used in several TV commercials and at one point was even the theme for the NFL. It's only a matter of time before one of these throwback rappers flips it. I mean it's already got a built in hook. Oh yeah.
5. Peter Gabriel – "In Your Eyes" from Say Anything
Drake, this is right up your alley. The girls would love it and I could already picture Kanye directing the video, having Drizzy re-create the unforgettable boombox scene.
Related – props to Rob the Music Ed who compiled a list of tracks that were already borrowed from movie and TV themes.
What do you think people? What other classic movie cuts have yet to be sampled?-Jesse Gissen