I Don't Care If They See Me As a Sideshow Freak! Why Do You Care?
Every single social networking device I woefully neglect is up in arms over the upcoming reality program/ghetto love connection that is Plies' Goonette. The "realist" rapper alive is no stranger to mainstream music's most popular business model. Even casual fans are aware of the plan that suggests creating a sideshow intent on eclipsing the actual product sold.
Were Sprite still concerned with obeying thirst, they'd have already run a campaign showing Plies being beaten to a Florida orange pulp with a pillowcase full of 12-ounce cans at the hands of Pete Rock & CL Smooth.

[Blogger's Note: Please don't tell me I'm the only one here who saw Bad Boys. I mean the Sean Penn one, not Mike Lowwww-ry.]
In this case, the sideshow is twofold. Plies' ignoramus act speaks to the minstrel show audience via flagrantly vapid music and interviews (except one). The search for Smurfette—oops, I mean, "Goonette,"—serves as the blockbuster sequel.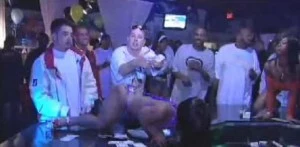 As if downplaying his own intelligence and making a scuba descent 20,000 leagues below For the Love of Ray J aren't enough, Ya Woy Ply wants to exploit little people in the process. Talk about hitting every branch on the way down, right? You know damn well Plies ain't actually gonna bust it to the shoe where that crusty little pole dwarf is raising toddlers twice her size on damp singles.
He'll let her rock until one of the later episodes (so he doesn't look like a bad person), but he ain't locking that shit down.
Luckily for the dwipper (dwarf stripper)—known only as "Fire"—she's used to being a spectacle and doesn't mind being a sideshow freak of sorts. Her attitude and approach toward the situation reminds me of the Chris Rock routine where he suggests little people need become guides for the blind. Rock implies that it's difficult enough for a little person to find work, and that the money spent training dogs—who require support and maintenance themselves to only get part of the job done—is better applied as seeing eye man salary.
The career choice of reality star probably leads to greater opportunity at a far more appealing proportion of earning potential to dignity decline than does say, umm… walking a nigga.
As for Ply, he's long since given up on maintaining a respectable dignity differential. Thankfully, we'll be able to observe the completion of his undoing on the small screen soon.
Questions? Comments? Requests? Did Ply say he's the only rapper to popularize the term "goon"? I'm pretty sure that's not correct. ron@ronmexicocity.com