Any Given Billy X. Sunday…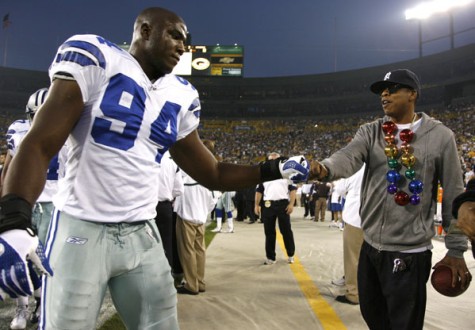 R.I.P. To Shakir Stewart. However he came to his end the one thing that we can all agree upon is that he lived and died for the music industry. People were giving Jay-Z credit for bringing Jeezy to Def Jam but it was actually this man who discovered the 'Snowman'. This story is sad, but on another note it makes me wonder... What did Jay-Z do at Def Jam?
Jay-Z stays taking photo ops. Breaking and signing new talent to the music business? Not so much.
We are at the halfway point of the NFL season and those of you that signed up for the Billy X. Sunday Football Pool have 8 more weeks to stake your claims for these free sneakers I will be giving away. It's time to get focused on the teams that play well and kick the Cincinnati's and the Kansas City's to the curb.
What were the surprises this season? The Giants for one. Yes, I know they won the last Super Bowl, but who could've predicted that Eli Manning would become Peyton Manning while Peyton became Archie Manning? Another surprise from New York are the Jets. Brett Farve has some folks believing that the Jets are Super Bowl bound. The Jets used to be called the NY Titans. The current version of the Titans might just be the best team in the league.
Just like the NFL the BXS Football Pool has a lot of people jammed in around each other. Here's the Top 10...
1 Ruffway Bruisers
2 Con-Vicks
3 BigNat 58
4 Da Partystarters
5 Shame On A Nigga (Biily X.)
6 titansfan
6 yesh_yesh_yall
8 Line Em Up Boys
8 Funk Town's Finest
10 Mex
Everybody is still in the running to win it all so I suggest that those who are trailing the leaders get on their grind right now. Trust that I'm gonna try to win it all myself as well. I'm not just giving these kicks away. You're gonna have to earn them.