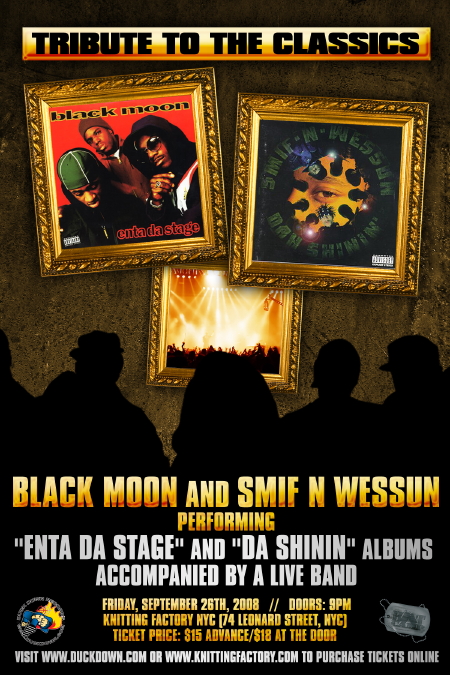 It's never a good time to leave NYC. There is a party tonight for the launch of NBA 2K9. Open bar and free food. There is some other industry shit on Wednesday night with more free drinks and Thursday night in NYC is the new Saturday night with free drinks and free food in several spots.
NYC is straight banana bread during the week, but on the weekend it becomes the city that never sleeps. This Friday there is some historic shit popping off at the Knitting Factory. Boot Camp Clik will be riding in hard with live performance by the Cocoa B'z and Black Moon. A live band will be backing them up as they perform the classic Hip-Hop albums 'Da Shinin' and 'Enter Da' Stage'.
'Enter Da' Stage' is such an important record in Hip-Hop history and the Duck Down BCC movement is finally being recognized as one of rap music's greatest collectives, if not the greatest. Look at their consistent track record and their longevity. BCC just keeps grinding through the underground. Heltah Skeltah's Sean Price has become the most prominent face of the movement in the last few years but who can deny Smif and Wessun and their impact on rap culture. Boot Camp is Brooklyn to the bone and they represent for the neighborhoods that gentrification still won't fucks with. Brownsville, Ocean Hill, East New York, Pitkin, Sutter, DuMont, Saratoga, Rockaway, Ralph Ave. Hail Meg!
It sucks that I am going to Barbados for a week today. It doesn't suck like that, but damn, this will be such a legendary performance that I hate the idea of missing it just because me and my chick caught this sick deal in February. The end of the hurricane season and right before the prime season jumps off is when you can got to the Caribbean for next to nothing. So while I'm chilling on a white sand beach Buckshot Shorty will be ripping down 'Buck 'Em Down' with a live bass player on his side.
I hope some of you hermits come up from your mom's basements. Don't be scared. There will be hell'a white hanging out with you. This won't be like a show at the old NYC nightclub called the Muse back in 1992. You won't have to tuck in your jewelry or keep a razor blade inside of your cheek. If you are fresh like me you will make sure you represent like it was 1992 though. Put some of your 'Lo lifestyle wears on and even rock a Jansport of a NorthFace backpack. The underground Hip-Hop will never die. Beats and rhymes never get old.
Someone drop me a line and tell me how ill the show was.
BTW, are y'all hype for Da Incredible Rap Team?
Everything is still Heltah Skeltah.