Why Jay-Z Can't Leave Rap Alone…
Because everyone nose that plastic surgery costs a grip...
I am not going to even front like I didn't have some 'Glow In The Dark' dust sprinkled on my Lucky Charms last night when my fellow iNternets Celebrity homey CASIMIR NOZKOWSKI texted me from the encore concert at MSG. Jay-Z came out and did a preview of a song from what is rumored to be his next album project 'Blueprint 3'.
I could only imagine how banana head the crowd was at that moment. Jay-Z is far from my favorite rapper, but dude is an undeniable legend in rap music. Even if I don't like his albums as cohesive pieces of art, whatever that means, this nigga has hits for days. I remember the last time I saw Jay-Z in concert during his anniversary performance for 'Reasonable Doubt'. The part of that show that blew off the roof was his encore set of random hits.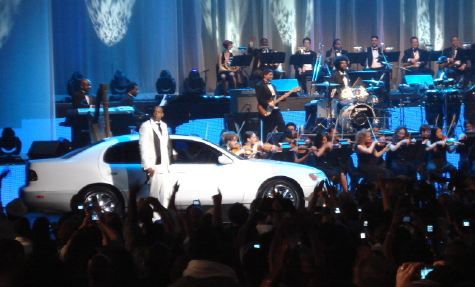 Match up Jay-Z with KanYe West again and that project has all the potential to be a watershed moment in rap music history. Wow, what the hell kind of weed do these industry niggas pass around? I'm throwing out hyperbole like this is Christmas time and I don't want Santa to consider the fact that I cursed him out for eleven months. Honestly, I'm still psyched from standing near Maxwell, Busta Rhymes and Double-O.
I'm a littled annoyed however that some people no longer choose to name their albums, as if the joints that preceded the latest were so unforgettable. In the real world of architecture if this is the third blueprint already maybe your design is flawed. The truth of the matter is that Jay-Z's 'Blueprint 3' exec produced by KanYe West may be more like buying some shit from Cinnabon. It smells good as fuck, but after you taste that shit, not so much.
KanYe and Jay have made hit songs though. Ever since the Dynasty album 'Ye Tudda has been producing some memorable tracks for Jay-Z. My favorite by far is the 'Takeover' which sampled the classic Doors song 'Five 2 One'. Let's face it, these dudes have done it before and right now no one is hotter behind the boards than KanYe West . Not Timbo, not the Neptunes, and not even Jay's number one hit-making producer Just Blaze.
The question that arises though is real and daunting...
Who will find the goofier jacket to wear?
Okay not that question. This question...
Is Jay-Z up to the task of holding down his end of the project?
Jay-Z's last two albums were cliché on one hand and retread on the other. 'American Gangster' did have some bright spots. 'Kingdome Come' had even fewer. I'm just thankful at least neither of them were titled Hard Knock Life: Volume 8.
With everything in the world going for him outside of rap music I wonder why in the world would he return to rapping. Someone needs to make sure that the folks slaving, er, serving at the 40/40 Club are getting their dental benefits.
Didn't Jay-Z just reportedly also buy the company that makes all the Yankees fitted hats?
Whew, that was a close call. He might have had to start wearing Mets hats like NaS does. The Lord knows you haters would call him a biter.
Then it dawned on me why Jay-Z was forced from retirement yet again...
BeYonce needs some new wigs.
You people wouldn't understand just how expensive all BeYonce's blonde hairpieces must be. I imagine them joints are crafted from the finest Russian orphan girl locks. None of that Chernobyl shit either. Straight Siberian foster home specials. I have never seen BeYonce wearing the same wig twice. She has Jay-Z grinding hard to keep her looking that good.
Plus ol' boy is spending millions to keep her in the finest automobiles. And you know you cant put no low-test gas in the tank of a Rolls. That shit requires 101 octane. I will give Jay some credit though for being frugal when it comes to his own needs. Here he is with BeYonce at several different basketball games and even though his wife flips her wigs like no tomorrow he stays rocking the same black shirt.

I think this collabo will be good for Jay-Z in that it might give him a chance to let that bitch breathe. Maybe Jay-Z can bring 'Ye Tudda with him to a few Nets games. It must be a pain in the ass to always have to tell BeYonce where the ball is. And speaking of where the balls are stashed, or rather where the balls are kept (these metaphors can go on for days)...
Mark your calendars for the last weekend in October. That's when Jay-Z's roommate LARRY JOHNSON (supercalifragilistic double-entendre [ll] to anyone with the surname Johnson) comes to town to play against the Jets. I can just see Jay-Z, KanYe, BeYonce and LArray all up that midtown apartment playing Jenga and Connect4 [ll].
When Lupe stops by they make him walk to Brooklyn for some cheesecake.
Yeah, goodtimes... Actually, G.O.O.D.times.
So this is why I am hyped for the 'Blueprint 3' album. It has classic potential just from the talent that will be involved in making it a reality, and most importantly it gives me a reason to enjoy this rap music blogging shit.
Oh yeah, and one last thing...
Handshakes >>> Kisses