Iggy Azalea Responds To Q-Tip's Hip-Hop History Lesson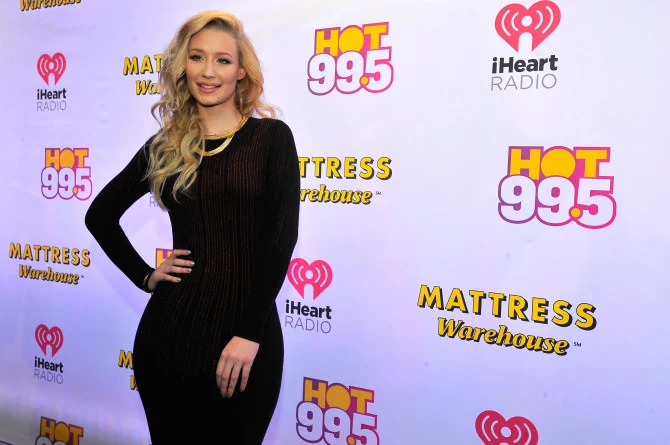 Update (Dec. 22, 11:50 p.m.): Azealia Banks chimed in on Iggy's response to Q-Tip's hip-hop lesson. Read her tweets.
How the fuck can you address a rap legend like @QtipTheAbstract and refer to "hip-hop" squares in the same breath??!?!?!!?!?!?!

— AZEALIA BANKS (@AZEALIABANKS) December 23, 2014
Qtip gave you some insight into the culture you're influenced by and you really sat there and told him he's hip-hop squares.

— AZEALIA BANKS (@AZEALIABANKS) December 23, 2014
Banks also tweeted then erased that "Iggy Azalea is Satan in The Form of Mayonnaise ….." Wow.
—–
Original Story: Saturday (Dec. 20), Q-Tip tweeted an lengthy hip-hop history lesson at Iggy Azalea about the historical and political powers within hip-hop music. Over the course of nearly 40 tweets, Tip states that "this is not a chastisement this is not admonishment at ALL this is just one artist reaching to another hoping to spark insight into the field you r in."
Lupe Also chimed in, defending Iggy, stating she has a place in hip-hop.
@LupeFiasco @MsGina_Kool people need to let HER do HER thing, and focus on themselves doing their OWN thing

— First Last (@03Adolescence4) December 20, 2014
We have to be careful with jealousy and things which lead to jealousy. Starting with our own outlooks on systems of validation @MsGina_Kool — Lupe Fiasco (@LupeFiasco) December 20, 2014
There was no response from Iggy—T.I. and Will.i.am also did chime in later on defending the Aussie Rapper—but you knew she was going to say something eventually. Well, that day is upon us.  The Grammy nominated MC took to Twitter to respond to recent tweets earlier, read them below.
Thanks lupe and will iam what you guys said was really nice and i appreciate it. — IGGY AZALEA (@IGGYAZALEA) December 23, 2014
most people learn every and anything they can about the subjects they are passionate about, I'm no different. — IGGY AZALEA (@IGGYAZALEA) December 23, 2014
i find it patronizing to assume i have no knowledge of something I'm influenced by, but I've also grown up with strangers assuming that. — IGGY AZALEA (@IGGYAZALEA) December 23, 2014
so its completely fine and I'm used to it by now. i don't lose any sleep over it. — IGGY AZALEA (@IGGYAZALEA) December 23, 2014
im also not going to sit on twitter & play hip hop squares with strangers to somehow prove i deserve to be a fan of or influenced by hiphop. — IGGY AZALEA (@IGGYAZALEA) December 23, 2014
im also not going to sit on twitter & play hip hop squares with strangers to somehow prove i deserve to be a fan of or influenced by hiphop. — IGGY AZALEA (@IGGYAZALEA) December 23, 2014
i would have to be an idiot or incredibly bored to think that would change anyones already cemented opinion of me. I'm neither. — IGGY AZALEA (@IGGYAZALEA) December 23, 2014
how you feel about me blending musical genres together doesn't bother me, no one is making you support or buy pop rap albums.

— IGGY AZALEA (@IGGYAZALEA) December 23, 2014
its entirely up to you what you support and are interested in, thanks if you are interested in me and enjoy my music. i love to hear that!

— IGGY AZALEA (@IGGYAZALEA) December 23, 2014
now, if you guys don't mind… I'm on my christmas break enjoying it with people i actually KNOW…. in REAL life. you should do the same.

— IGGY AZALEA (@IGGYAZALEA) December 23, 2014
This past week has been rough for Iggy Azalea. It began on Friday when Azealia Banks went on to Hot 97 and explain why she believes that the Nicki Minaj is undervalued in the hip-hop community. and pitting Nicki against Iggy is "cultural smudging." Iggy responded to Bans, calling her a bigot. Quite strangely, hacker group Anonymous didn't take too kindly to the tweets the "Fancy" rapper posted in response to Azealia Banks' Hot97 interview. The group has threatened the Aussie rapper with repercussions if she does not comply with their demands to give Banks a full apology also saying she is, "guilty of misappropriating black culture, insulting peaceful protesters, and making light of Eric Garner's death."
Related: Q-Tip, Tyler, The Creator And Solange Back Azealia Banks In Action Bronson Beef
Iggy Azalea Calls Azealia Banks A Bigot
Azealia Banks Calls T.I. A "Shoe Shining Coon," Rips Iggy Azalea
T.I. Responds To Q-Tip's Tweets, Defends Iggy Azalea
Will.i.am Defends Iggy Azalea "Thanks For Contributing & Spreading Our Culture Positively"