Migos Clears The Air About Lil Durk Beef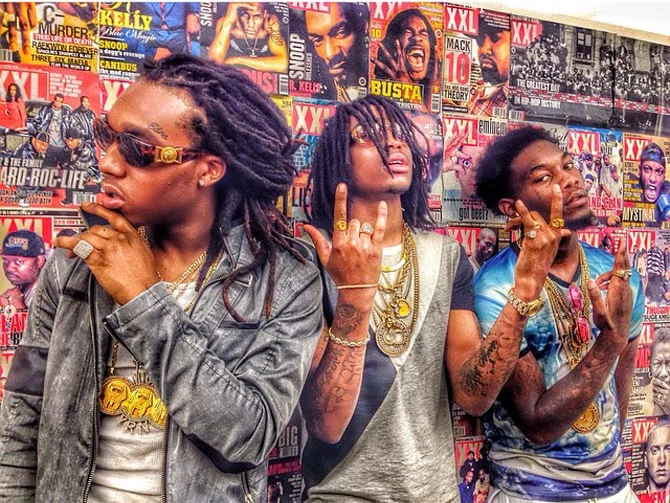 Since December of last year, there has been some bad blood brewing between Migos, Chief Keef and his GBE crew. While things have finally settled down, the two camps couldn't see eye-to-eye for most of 2014, eventually escalating into Twitter threats and possibly violence. Now, the "Versace" rappers are moving on from the whole situation. "That's the least thing we are worrying about," Quavo tells XXL during their press run for No Label 2. "Ain't too much to say about that. It ain't no big problem."
Sosa called out the trio for allegedly sneak dissing on "Brokanese," which set off a series of back and forth songs aimed at one another. In the track, OffSet rapped, "Not often it's everyday payday, my diamonds looking like K-K (White!)." This was interpreted as a shot towards Keef's daughter, Kay Kay Cozart. He didn't take it lightly. He responded with a series of tweets threatening Migos to come to Chicago or "pull up."
After "Brokanese" dropped, hip-hop fans were talking about whether it was an actual diss towards Chief Keef. The trio set the record straight in an interview with DJ Superstar on Shade 45, saying that the song wasn't made to takedown anyone in particular. However, Quavo did add, "I guess he got the disease, Brokanese."
In the early part of January 2014, Chief Keef allegedly clapped back with "Mando" that made fun of them coming from the bando. Adding more to the feud, Sosa turned Migos' "pull up" catchphrase into a diss track of the same title that containing menacing rhymes like, "Pull up in my M-6, in my M-1/Just hit my connect, say he got about 10 guns/Pull up in my 755 with 50 ones." To retaliate, Migos were inspired enough to drop another song titled "Jealousy." It contained not-so-subtle lines like "Don't enter Atlanta without no permission" and "You niggas got so much jealousy, I keep the pistol with felonies."
Weeks later, Migos, who might of felt confident and cocky, visited Keef's South Side neighborhood and left unscathed. The vlog, "Live For Chiraq," featured them preparing for a show at Adriannas Night Club. As they put it, they walked through the whole city and still had their chains on. Eventually, Keef saw the video and responded on Twitter: "So I heard niggas came to a nigga city and knew I was in rehab! How you didn't know and da whole world know where da judge sent me." In separation occasions, Lil Reese and Lil Durk both got involved to what looked like standing in Keef's corner, but it was actually Durk who didn't have any problems with them at all.
"That's our partner. We fuck with Lil Durk. He's talking about a song that we got done with him," Quavo says of Durk's tweet about giving them permission to shoot a video in his neighborhood. "He's talking about a song that we got done with him." "Y'all see it. It's coming," OffSet adds.
That still leaves Migos' unsettled beef with Chief Keef. Even though they haven't publicly squashed it, the ATL crew have bigger and better things to occupy themselves with. "It's just a whole bunch of cyberwar, Internet war. We don't know them in person and we never met them," Quavo says. "We worry about our thing, they worrying about their thing." Offset adds, "We gettin' money and we ain't focusing on that type of thing."
Straight to the money, no short cuts.—Eric Diep, with additional reporting by Emmanuel C.M.