Karen Civil Hustles Hard – XXL Issue 152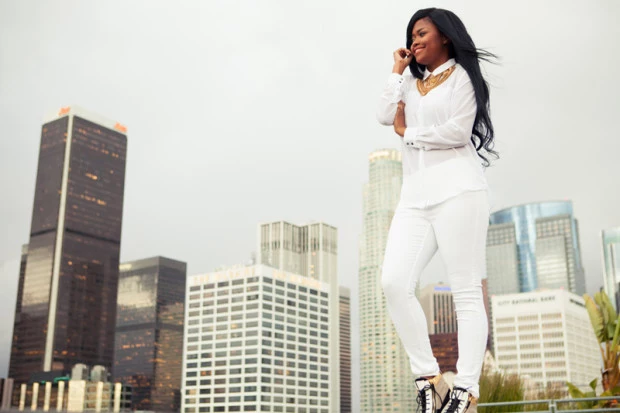 During her Dipset years, Civil developed friendships with Lil Wayne and Young Money President Mack Maine. It helped her leverage interviews with Nicki Minaj and Drake long before they became household names. Civil also became adept at convincing artists to give her song premieres. But the site really blew up after she broke the story of Waka Flocka Flame getting robbed and shot in New York City. Shortly thereafter, Civil published an exclusive photo of the gunman holding up Flocka's chain like a championship trophy.
Karencivil.com spawned a sister site, livingcivil.com. The pair receive anywhere between 3,000,000 and 6,000,000 views a month. Then there's Always Civil Enterprise, a strategic marketing firm intended to help artists expand social growth and build their audience on and offline. Her clients include Lil Wayne, Pusha T, Young Jeezy and Mary J. Blige. "She understands how the public perceives artists and has her pulse on everything going on in the industry," Pusha T says. "There's nothing I won't tell her. She's trustworthy and keeps her business relationships and friendships very sacred. Before I started working with her, I had no knowledge of social media. She told me what I should react to and what I shouldn't. She taught me how to keep my fans engaged beyond the music."
Beats By Dre offered Civil a position as digital marketing director not long after she partook in a gifting suite during the 2011 NBA All-Star Weekend. After an offhand mention that she'd pass on their headphones to Lil Wayne and J. Cole, the Beats team flooded her with product.
Once several artists sent back photos of themselves rocking Beats, word of Civil's influence spread to the industry leader's upper management. They dangled a name-your-price job offer, and within weeks, Civil moved from Elizabeth, N.J., to Los Angeles. At the time, the company only had 11 employees. It currently has 300.
"It sells [Civil] short to label her a 'digital person,'" says Paul Rivera, the former head of sports marketing at Beats By Dre who recently left to start his own marketing company with clients including his former Beats employers and LeBron James. "More than anyone else at Beats, she touches on all facets of the business. From sports to entertainment to the digital space, there's no category she doesn't touch.
"We're all in a relationship-based business, and she's mastered relationships," Rivera adds. "She's a real and authentic person, which in this business is the highest compliment you can give. You never have to question her ulterior motives. She always keeps it 100 with you."
The word "relationships" continually reappears in conversations with those close to Civil. This affability bubbles up in casual conversation. Her mind moves rapidly yet seems calm—as though she can freeze time to carefully weigh out each scenario. She's an indefatigable worker, running marathons, balancing multiple business enterprises and frequently subsisting on just four hours of sleep. There's a Karen Civil book due next year and plans for more video content. Don't be surprised if one day you find yourself watching an audience giveaway of "Karen's Favorite Things."
"Sometimes these contacts make it feel like I have hip-hop in my back pocket. I can hang with Rick Ross in the morning at the BET Awards and then go to Young Jeezy's dinner at night. It's not a big deal," Civil says. "I get to have meetings with Lil Wayne one day and Jimmy Iovine the next about the culture at Beats By Dre. It shows that you can go from a blogger to doing whatever you want to do. It's exciting to get to light a match, let it go and watch the fire burn." ♠