Hopsin Explains The Stories Behind His Best Tracks On New Album 'Knock Madness'
"Tears To Snow"
Hopsin: It's a whole new delivery for me as well. I never delivered a song like that as far as the energy I've had. It's not a hype song, but it's an emotional song. It just talks about me and my ex-girlfriend breaking up and having issues. Me being a rapper, and her thinking I'm someone that's cheating on her all the time. Because I am in the spotlight now and she sees stuff on Twitter. Girls tagging me in pictures and she thinks I'm cheating and all this crap. It talks about the life of being a rapper and trying to have a relationship and how it's just not working.
"I just want to commit suicide sometimes… I'm an emotional wreck right now. I don't know what the hell is going on."
The second verse talks about how rappers that I've known over the past few years kind of changed on me and [are] talking the shit behind my back. Word gets around and it's the same rappers who open for me at shows. And they'll come up and congratulate me on something like, "Yo, blah, blah, blah. That was dope or whatever." They'll be like, "Man, fuck Hopsin. He's Hollywood man. He was this or he was on Disney."
The third verse talks about me as a person. I don't want to be Hopsin no more. It kind of hurts to continue to do this. I just want to commit suicide sometimes. I just want a family and all this stuff. It's a really deep song. I'm an emotional wreck right now. I don't know what the hell is going on. It's almost like the whole rap industry is a whole new world. So, it's not even planet Earth anymore. I'm in it, but now it's like my eyes are open. What the fuck? Where am I? Oh my God. I don't know who I am anymore. It makes you depressed because I like it, but I don't like it. It's a weird hate-love type of relationship that deals with the industry. I love making music. And at the same time, I want people to hear my music and i want to be a big rapper. But then, the toll that it takes on my personal life is so huge to where I am deciding if it's worth it. I can't have a relationship. It's hard for me to even find time to hang out with homies. Go skateboarding when I want to. I gotta cancel my personal meetings with people to just chill with them because of music. It's complicated. That's why I was tweeting all that stuff.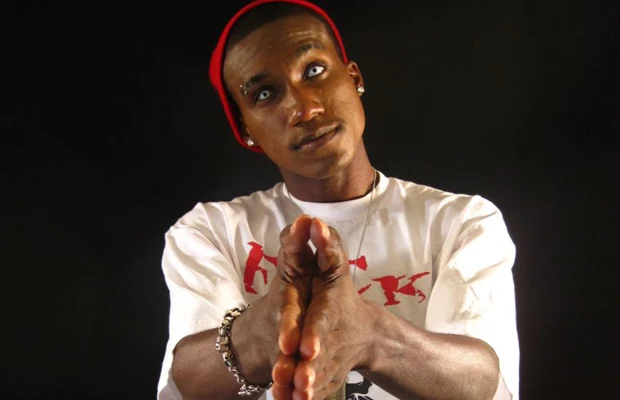 "Hip-Hop Sinister"
Hopsin: That's probably the most intense rap song on the album. It's not a song that's going to slowly change anybody's life. It's just a rap song that's pimp, to just have bars and sound dope. The energy on that, you'll probably hear it and want to cut somebody's throat. When you're working out, you just hear some workout music. The song just amps you up so much. It's so hyped to where you want to punch a hole in somebody's head or punch a hole through the wall. It's one of those songs. It's the hip-hop sinister. If you were to picture the super dark sinister of hip-hop who is standing on top of the freaking dark mountain in the night and the moon is in the sky saying beast mode lyrics, it's crazy. If the Incredible Hulk was to rap, that's what that song will be.
"Lunchtime Cypher"
Hopsin: That one is a dope track. It's really raw. It's featuring my homie Passionate MC and the other homie Gmo Skee. It's a song taking it back to fucking high school. You know, rap sometimes comes all jazzy and weird and too swaggy to where you don't hear anybody just spit or rap. Sometimes, motherfuckers want to hear motherfuckers rap. It doesn't matter if its over-the-top bars or under the top, let's just have fun with it. Let's stand around in the lunchtime area. Lunchtime cypher like back in high school and spit. You can say anything goofy: "I hit you in the head with a plate / rape your date / give your mom a handshake after our…" Whatever! It can be anything, but just fun rap.
"Lunchtime Cypher" is me telling people to gather around to take this shit back to the raw hip-hop. And just fucking spitting bars and dope shit. Then all three of us are just rapping. I start off, Passionate MC is second, and Gmo Skee is third. We're just rapping, saying whatever the fuck comes to our heads. We just do whatever. There's no real topic, it's just random, crazy bars. All three of us have different styles. I wanted a realistic feel of what it would be like to be in a cypher to where it's not about making the song super ill. It's not about trying to do this, make a commercial hit. Making a catchy chorus. Let's just rap.
The way I built the song, too, it's like beatboxing. It actually feels like a lunchtime cypher, where you hear people in the background going "Ooo!" I designed the track where it has all the sound effects where it feels like you are really in a cypher.