Tyler, The Creator Disses The YouTube Music Awards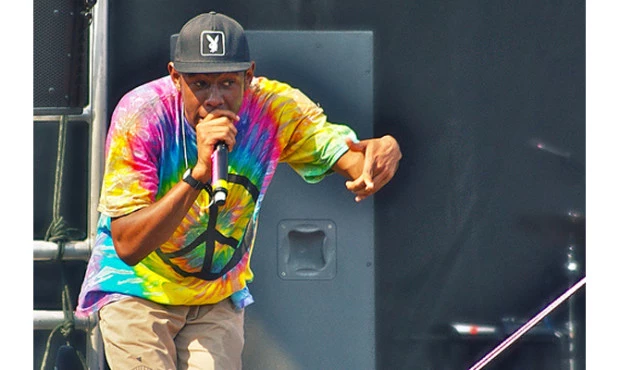 Tyler, The Creator is not feeling the YouTube Music Awards. Though the Odd Future ringleader is scheduled to perform at the show along with Earl Sweatshirt, he hasn't been hesitant about criticizing the show on social media, claiming that the awards focus too much on "teeny bopper pop shit" at the expense of more creative artists. In typical Tyler fashion, he's taken to his Twitter account to send a message to the awards: "You are butt."
In addition to criticizing the nominees, Tyler also expressed his frustration with the way the awards are organized. "Why not give awards to just directors," he writes. "These fucking weak ass artists don't come up with these shots or sit in coloring. Fuck them they suck."
He's not the first to speak out against the YouTube Music Awards, which have nominated artists like Demi Lovato, Justin Bieber, One Direction and Selena Gomez. Yesterday, producer and musician Flying Lotus sent out a series of Tweets similar to Tyler's sentiments.
"If it's all about hits sure I get it but let's be fair," Flying Lotus wrote. "YouTube award nominations clearly don't care about cutting edge/innovation… They had an opportunity to shine a light on all the artists that they helped to gain notoriety just to shit on them for uber famous acts."
The YouTube Awards will be handed out on Sunday, November 3 during a concert event in New York. The event will be hosted by Jason Schwartzman and Reggie Watts, and it will feature performances from Tyler, The Creator, Earl Sweatshirt, Eminem, Lady Gaga and more. Check out Tyler's Tweets in their original ALL CAPS format, below.
YOUTUBE AWARDS COULDVE FUCKING HAD NOMINATIONS ON COOL CREATIVE VIDEOS SHIT BUT NOOOO AGAIN ITS THE MOST TEENY BOPPER POP SHIT. YOU ARE BUTT

— Tyler, The Creator (@fucktyler) October 23, 2013
WHY NOT GIVE AWARDS TO JUST DIRECTORS, THESE FUCKING WEAK ASS ARTIST DONT COME UP WITH THESE SHOTS OR SIT IN COLORING FUCK THEM THEY SUCK

— Tyler, The Creator (@fucktyler) October 23, 2013
[via Pitchfork]