Meek Mill Is Rising Through The Maybach Ranks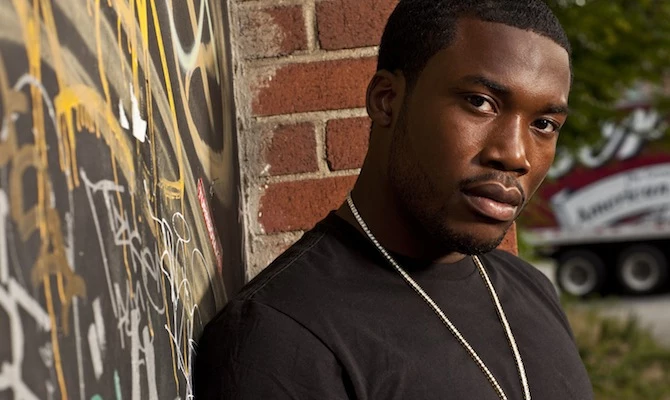 "There's levels to this album, Self Made 3," Meek Mill told Angie Martinez during Hot 97's Instudio series at Electric Lady Studios during Maybach's press run through New York City last week. If you follow the thread, there are levels to Maybach Music Group as well, and while Rick Ross will always be The Bawse, Meek Mill has positioned himself as Rozay's right hand man.
It can be difficult to make that case—after all, Wale has been the second-biggest hit-maker in the group and has a No. 1 album to his name that Meek, though his debut Dreams And Nightmares missed out by one spot last year, can't claim—but in terms of following the boss' footsteps, Mill is right behind him every step of the way. He's inked his own imprint, Dream Chasers Records, has a line of headphones (24K in association with Monster Headphones) on the way, and has his own shoe deal with Puma. He, more than anyone else signed to Ross' Maybach roster, is truly dedicated to becoming the next Boss.
"I really just follow the path of Jay Z, Dr. Dre, Puff Daddy, the people that really got it," he says on his business acumen in a phone interview with XXL. "They gave us a blueprint for making everything that's possible, possible."
But enough with the business side of things—musically, Meek is gearing up to bring hip-hop back to the streets. His solo track "Levels" was the big first single from Vol. 3, a certified club banger, and he's back in the studio working on his second album, tentatively slated for next year. He's been in a war of words with Kendrick Lamar and Cassidy, earning plaudits for the strength of his diss tracks back and forth with each. He's either featured or the main artist on five tracks on the new Maybach album—more than anyone but Ross—and his Dream Chasers 3 mixtape, with its half-lion-half-self-portrait cover, is scheduled to drop on Friday (Sept. 20).
"I've been out on the road for the past year so I haven't really been recording that much," he says. "But I just sat down for about two or three months and started recording a lot, and I got enough ammo to come back out with another in the Dream Chasers series. You can expect straight heat. It's basically like giving an album away for free."
This year hasn't been the easiest for Meek; his album didn't take off like many had expected it to, he's had issues with the courts, and most significantly, friend and 18-year-old up and comer Lil Snupe, who had just signed to Meek's Dream Chasers imprint, was shot and killed in Louisiana in June. Ross put Snupe on the intro to Self Made Vol. 3, and he emerged as one of the standout performers of the project. "I mean Lil Snupe, he was gonna be the next big thing coming up," Mill says. "Ross was with [putting him on the album]; the both of us wanted to do it."
But things are turning around for Mill. He says he's already got five songs for the new album—including one with Travi$ Scott, who Meek says is one of the most creative young artists out right now—and some of his label signees, including Snupe, Louie V. Gutta and Omelly, were featured on MMG's latest output. "It was good to see some of my homies move up a notch in the game," he says of them. And with the Self Made Vol. 3 and Dream Chasers 3 recording done and dusted, he's got plenty of time to get into the studio and feed the fans with his sophomore album. "I'm just grinding," he says. "Whenever [my album] drops, street rap is gonna be in. That's what we're talking about. I'm gonna hold it down."
There's levels to this Maybach shit. Meek Mill just wants to make sure he's on top. —Dan Rys (@danrys)