Killer Mike Recaps The Final Episode Of 'Breaking Bad'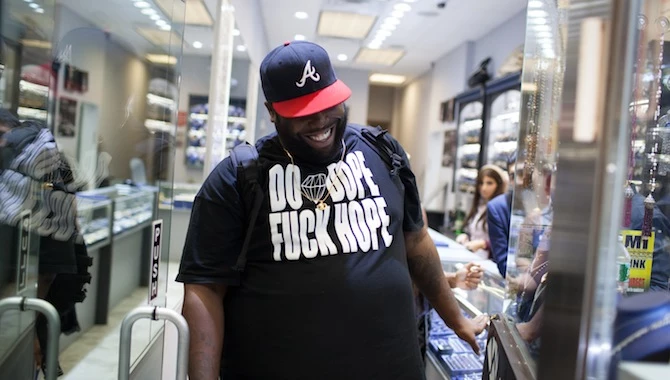 But getting back to Walt—Walt finished all of his business. He made sure that his family was good. Even if they don't get the $9.5 million, even if for some reason that doesn't happen, he's taken his son—who was almost coddled the first few seasons—and he made a man of him. Every father wants to make a man of their son, and you imagine it to be in a real heroic way, teaching him lessons and he honors and admires you, but some dads just have to become the competition for their sons. Some sons have got to try to kill the memory of their dads. And I think that his son became a man because of that. But his real son, his spiritual son, the son he always wanted and used and abused, Jesse, he gave him freedom last night. For the first time in their life together, he gave Jesse the opportunity to make a real choice. Everything else in his life, Walt had always made the decisions for Jesse and gave him options that would make that the outcome, whether it was $5 million, coming back to cooking, the initial crazy-ass connect—he had used his son, and he realized he had to give his son a real choice. He was more than a mentor to Jesse—he really was Jesse's father. And he gave himself to Jesse to kill, and Jesse chose not to, and I think that in that moment, Jesse truly became a man. I think that Jesse had wanted to suffer so much that he was a slave to his instincts of "I don't deserve this, I should be punished." I think him actually being punished allowed him to exorcise some of those demons of guilt. I think Jesse's gonna come out of this different.
When Walt sat down with Skyler and told her that he didn't do this for her, he did it for himself, it took me back to that scene in the PTA meeting. They got it going in the car, and she said, "why does it feel so good?" and he said because it's illegal—every criminal has that feeling. Jay Z rapped about it. There's a high that comes with getting away with criminal things. So even further, it wasn't about the money, because as a teacher you're always complying. As a middle-class guy, you're always complying. As a white, Anglo-Saxon Protestant in America, you're always complying. And what a freedom it is in rebelling, in being the outlaw. And I think that him finally telling that to Skyler, it relieved her of the guilt of, "I drove my sick husband to become this maniacal, evil man." As much as I hated Skyler at times, I had to realize that fundamentally, morally she was a good person. She wanted to be a good and decent person. Owning a car wash? That's one of the squarest, most moral thing you could do—she always wanted things to be right, or neat, or sanitary, or fair. Giving her sister the peace of knowing where he husband is, giving his wife the coordinates to know where the bodies are in order to negotiate a better deal for herself, he realized that in order for this to work, money's not gonna solve my problems. Leaving is not gonna solve my problems. I have to be this criminal Christ. I have to sacrifice myself.
I kept coming back to the last moments you see these characters—Jesse driving away, Skyler with love in her eyes watching Walt with Holly. Those are the moments that really stick with me.
Oh man, that moment with Holly was so beautiful. This child hadn't really been in the show; she'd been the subject of why he's doing it, but she'd never been just a beautiful, precious little baby. We'd never seen just that tender moment. She was always a token or chess piece in a game of power for Walt's life, and we just got to see Walt as a dad. When he realized that he was never going to see his daughter again for the rest of his life, that moment just expressed so much love and adoration. The show is just written beautifully on so many levels, it was just fucking amazing.
At the end when I realized it never really was about money, this show has always been about an anonymous guy who was a teacher who realized, "I'm going to face death, and I have not left a legacy." And as twisted and as sick as it is, that blue crystal meth in New Mexico will never be made again. The world will never see that good of quality again, and his legacy is intact. He'd become something of legend. With that being said, this motherfucker was a Wallaby-wearing Keyser Soze. When he told Lydia, "you feel like you have the flu right now, that's that ricin I put in that fucking shit you always drink," I was like, oh my God! This shit is brilliant. She had to sit there and realize, I've killed myself. Imagine those final thoughts. And when Jesse choked that motherfucker out, the only thing that would have made it more glorious is if Jesse opened his mouth and you saw the demons coming out of him. The possessed spirit exiting his body. I feel like on one hand he was killing that kid, but on the other hand it was everything—what Walt had done to him, what life had done to him, seeing Andrea get killed, it was for everything. I was happy for Jesse, and that's something to say about the skill or writing too, because I just wanted Jesse to die every episode until last night. I prayed for Jesse's death, secretly.
It was incredible when Jesse was holding the gun up to Walt, and then just said, "Nope," and walked away.
I didn't think he was going to kill Walt. I didn't know if he was going to shoot him, but I didn't think he was going to kill him, because they really love each other like father and son. But until he said, "No," I didn't realize what the scene was about. It was about Jesse finally growing up, finally making a real decision. We've seen points in the show where Jesse would still ask Walt's advice, or his dumbass friends' advice. He was always afraid to figuratively pull the trigger himself. So I thought Jesse's maturation into an adult was amazing. Uncle Jack, who had only been around a short time, god damn that was a hell of a character to play. Even in the end he remained Uncle Jack—for him, it wasn't about the violence or the money, it was that he keeps his fucking word. And when he brought in Jesse at the end, I was like, pride usually goes before the fall. He finally made the mistake of all mistakes. When that trunk button got pushed, I just smiled. And when Uncle Jack just accepted it—he did still try to save himself, it's instinctive, he's a mercenary—but that showed me that it wasn't about the money for Walt. I didn't know what it was about until the very end, but I realized it wasn't about the money at all.
I think Walt knew from the beginning that he was gonna die. I realized he was gonna die two days ago. I knew the machine was gonna take out Uncle Jack—I didn't know it was gonna be so beautiful and epic [Laughs]—I knew Walt had made the decision that he was going to have to exchange his life for the life he wants for the people he loves. It was beautifully written, it was beautifully shot, it was a beautiful way to end that series. For the first time in my life since the '80s, TV got it right. And I just want to thank Vince for getting that shit right, I want to thank everyone that acted on that show for giving me five years of great entertainment, and now I can be free to do drugs again on Sundays and not watch TV. [Laughs] If I see Vince, I'm buying him a drink and smoking a blunt with him.