Action Bronson And Danny Brown Are Going On Tour Together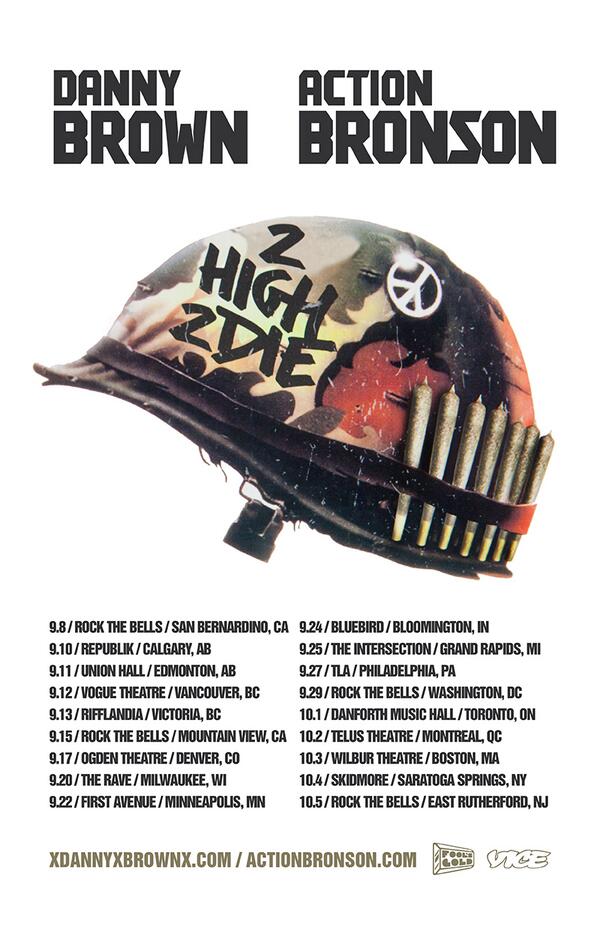 Action Bronson and Danny Brown—a current XXL freshman and a former one—will be kicking off their "2 High 2 Die" tour starting September 10th. Trekking across the US and Canada, the rappers will be hitting Philly, Boston, Toronto and a host of other venues.
The tour comes prior to the release of Danny's upcoming sophomore album OLD which debuts this fall via Fool's Gold Records and following Action Bronson's lauded Saaab Stories EP. Bronson is also prepping his Blue Chips 2 mixtape, the followup to his 2012 effort with Party Supplies, which is set to drop later this year.
ACTION BRONSON AND DANNY BROWN 2 HIGH 2 DIE TOUR DATES:
09/10/13 @ Republik - Calgary, Alberta
09/11/13 @ Union Hall - Edmonton, Alberta
09/12/13 @ Vogue Theatre - Vancouver, British
09/17/13 @ Ogden Theatre - Denver, CO
09/20/13 @ The Rave II - Milwaukee, WI
09/22/13 @ First Avenue - Minneapolis, MN
09/24/13 @ Bluebird Nightclub - Bloomington, IN
09/25/13 @ The Intersection - Grand Rapids, MI
09/27/13 @ Theatre of the Living Arts - Philadelphia, PA
10/01/13 @ The Danforth Music Hall - Toronto, ON
10/02/13 @ Telus Theatre - Montreal, Quebec
10/03/13 @ Wilbur Theatre - Boston, MA