Kanye West Vs. J. Cole Showdown! Who Will Be The King Of June 18?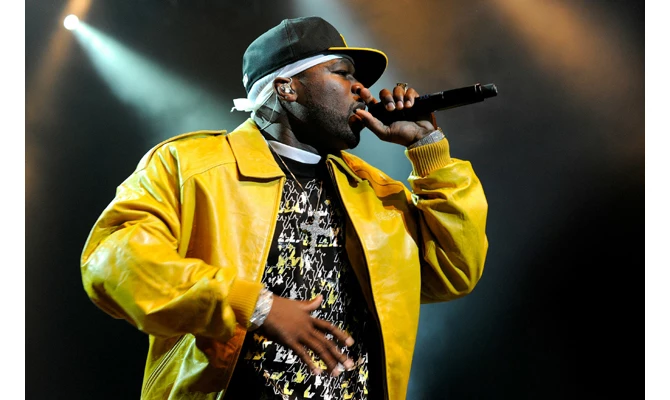 Why Move Up The Release Date?
50 Cent versus Kanye West was the clash of the titans. The showdown was caused by both artists pushing their albums to September 11, which turned into a spectacle as the date came closer. For 50, he chose to move his date up because Curtis' first two leaked singles—"Straight To The Bank" and "Amusement Park"—were not met with the greatest response. For West, Graduation had several releases dates, but was moved up from September 18 to compete with 50 Cent's album because a face-off sounded like a good idea.
"This the only sport where people really going for that number one spot, and going for that moment, to be the most important, the most talked about, have the most freestyles, the most airplay, the most show dates," 'Ye said of their feud in 2007 to Rolling Stone. "I just wanna make a record that really embodies what people are going through."
West continued to embrace their friendly competition. He felt that two hip-hop heavyweights releasing their album on the same day was huge. "I'd rather come out on a day like that, up against 50 — where people are excited about going to the stores and it's an event and people talk about it — and be #2 on that day rather than come out and be #1 on a day nobody cares about," West said in an interview with MTV News. "It's about things going down in history. It's not that much exciting stuff in hip-hop right now. I think people are going to make it more than what I'm making it myself. At the end of the day, I'm making music and I'm trying to sell."
J. Cole's second album has been in the works for a while now, and with his first, Cole World: Sideline Story, debuting at No. 1 in September 2011, the expectation was for his sophomore effort to follow suit. After announcing his original June 25th date back in early April—more than a month before Kanye made his announcement—it seemed like a done deal that Cole would return to the top of the charts. But then the word came: Yeezus season was set to kick off a week before, on June 18th, and Cole felt he was forced to react.
"I worked too hard to come a week later after Kanye West drops an amazing album," Cole told Billboard after pushing his date up to compete with Kanye. "It'd be like, 'Oh and J.Cole dropped too, a week later.' Nah. I'm going to go see him on that date. He's the greatest. So it's like, I'm a competitor by nature so it was instant, it wasn't even a thought."
Immediately, people set the date up as a battle of sorts, with the young guns lining up to take shots at one of the two occupants of The Throne. Cole, for one, wasn't shying away from the importance of his album's move. "I'm sure he wasn't thinking about me, but it just put me in a situation where I was forced to just come see him on his date," he told MTV News. "He hasn't reached out yet [to me]. I'm sure maybe he's heard, but I don't know how he feels about it. But you know, it's all respect."