Joey Bada$$ Talks 'Summer Knights' Mixtape And His Next Steps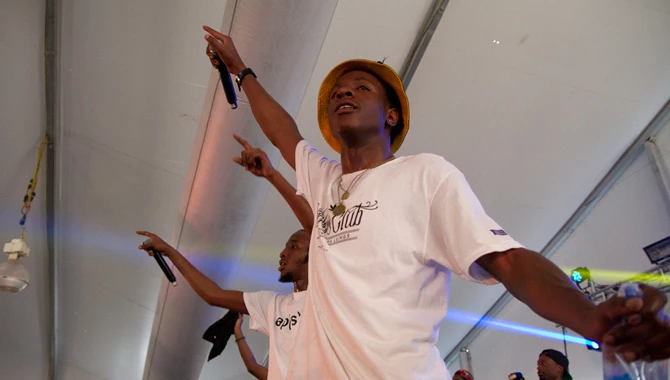 On the features and production for Summer Knights:
Production wise, who's on it?
Lee Bannon, he gonna shine the light off of this shit. He's got some bangers on here. Chuck Strangers just got some bangers. Kirk Knight, I don't even think any of Kirk's beats made it to this project but his verses on this, people are gonna be extremely impressed with the progression of Kirk. People really gonna see Kirk stand out as an MC on this project—I cant wait to see the feedback. Not even just on me, what people think of the Pros and shit, just off this. Because I don't have any outside features on this, It's just in the camp. It's not even that I want to keep this in house, I just fuck with my niggas. Like a lot of these other niggas be moving funny, I just really fuck with my niggas.
Do you feel like that it's a bad thing when people just get names for features?
Nah, it's not a bad thing at all. Because you know I wanted a Kendrick Lamar feature—I wanted things like that but, you know, it's timing. I think things like that are really good to see, especially in hip-hop. Especially when the East and the West come together and they make bangers. That's a beautiful thing to see. I love to see things like that.
You sure you really don't have a favorite song on the project?
All of them bro. [Laughs] You gotta understand, all of them. I really think "Swank" is amazing. But these are like—the only reason I'm saying this is 'cause these are like my newest, my newest stuff. All the other things are pretty older but yeah, all of them bro. I can't wait for it to drop. It's like, eight more days, and I'm just itching like a fucking fiend. It's crazy, I have the music and I'm the one itching [Laughs]. I'm so excited; I just want to let this go. I'm tired of performing 1999 songs on my set. [Laughs] Not even tired of it, I'm tired of performing it like it's new. You know, I go to shows and shit, people hear 1999, you know what they want to hear, but I got all this new shit in my head, I want to unleash it. So that's my next move man.