Pac Div on Their Banging New Album, Collaborating With Kendrick Lamar, and L.A. Hip-Hop's Huge Year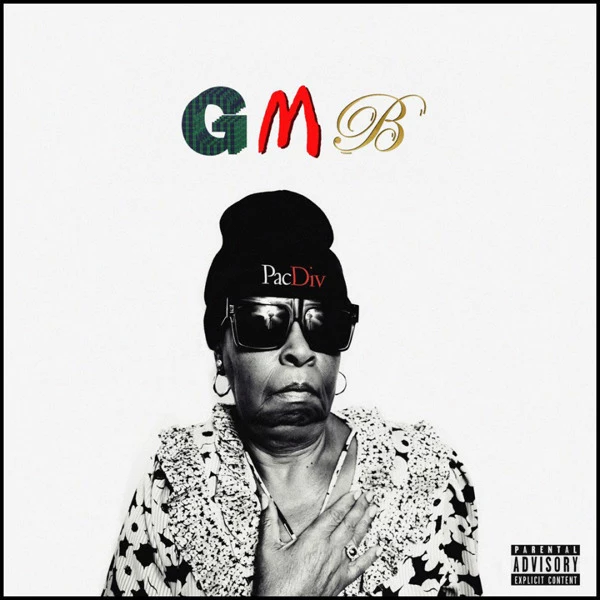 Tell us about the hilarious cover art. Who's the gangsta older woman on the cover?
Mibbs: That's me and Like's grandmother. [Laughs] We just went over to her house—she's been living at the same apartment since we've been alive—so we just felt like, 'Man—this album feel like we takin' people home, so we might as well just go home for this one.' So we went to our grandmother's house and set up everything and took the pictures. It was easy—she's got so much swagger herself that she killed that in a couple of shots. The other day on Twitter, somebody said, "Pac Div's grandma look like Jay-Z." I was dying. [Laughs]
It's been a year since you guys dropped an album or mixtape—a lifetime in rap these days. What was behind that?
Like: Life be happening, man. Speaking for myself, it just kind of discourages me really to go out there and, I don't want to say "whore" myself, but I'm just not an attention-feeder like that. When the music speaks to me, then I create. But I do realize that this game requires a bit of consistency, a bit of staying on people's radar. But I've always been a loyal fan to artists that I really love: No matter how big of a hiatus they take, if the music was that good, you'll come back to it. Kind of like how some alternative bands work, they'll not put out an album for a year. Beastie Boys even—they'll put out an album and then you won't hear from them for a while, they'll spend a lot of time touring and stuff. In our case, we're not the Beastie Boys, but it's the same process when we're going to create. Music takes a while—we're not just popcorn artists that go in and just scramble anything together. We like to put a little bit of thought and time into it, and sometimes it takes a while to get to that point. I didn't really think too much about it, but I think a lot of people be getting discouraged like, "Aw, man—we want to ride for Pac Div but they just don't put out that much," and it's like, "Dude—we've already put out like six albums pretty much, and a lot of them were free." We're giving people a lot, and even still, that isn't enough. So now we realize we've just got to keep out foot on the gas.
Mibbs: He's right. We're young dudes, but we're old school in the sense that like [when] we grew up, our favorite artists only put out one album a year. Now you've got a bunch of artists—too many artists, actually. There's too many people to pay attention to, so everybody's attention span is kind of messed up, so we just don't want to be in that flock of people that are putting out a mixtape every two weeks. We just want to be like, "Let's concentrate all of our energy on this one project." But like he said, after GMB we're going to keep our foot on the gas a lot further so that we can capitalize.
You guys were signed to Motown till summer of 2011, but you released this album, as well as last year's The Div, independently. How come?
Mibbs: The break-up with us and Universal was cool anyways because we were sitting here wondering, "C'mon, man—we've been on this label for three years, we dropped two mixtapes—ya'll still ain't put an album out for us yet?" So, it was a perfect time because they got outta dodge [Motown left Universal and relaunched under Island Def Jam last year] and then we got outta dodge right after that. They just let us go like, "Hey, man—sorry it didn't work out."
Like: We were just thinking it would be more lucrative if we just controlled more of what we wanted to do. So it's an experiment. We have more leverage to go in and do more things as opposed to being at the mercy of someone else's call to release music. That's kind of our thing, man—we don't really like that pressure. We don't like people to dictate our decisions. I feel like labels just do a lot less these days and want a lot more, because they're struggling. They expect the artist to become a single-driven artists, which forces the artist to compromise because now you're changing the formula to achieve record sales. Or a company is gonna get their money first before you see a cent, and then after the recoupment, if the single is big enough, you get paid. Not knocking anyone else, but we're just not that type of band. Art takes cultivating and time, that's why labels don't even understand creative people like Hov—their music is a lot more than just chasing a trend, following a specific radio format. They never really understood that. An artist like that takes time to cultivate. Let it be as organic as possible. That's what being independent gave us the freedom to do.