Tone Trump Salutes New York Rappers in NYC Performance: Show Recap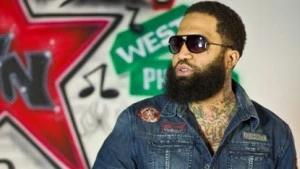 Tone Trump let it be known that he loves New York City last night (August 27) at Webster Hall. The Philadelphia native and rapper signed to Young Jeezy's CTE label blazed the stage at the Coast 2 Coast Industry Mixer and freestyled over a medley of classics by NYC heavyweights such as Nas, Jay-Z, 50 Cent and the Notorious B.I.G.
"I did a New York tribute because when you make it in New York, you know you've made it," he told XXLMag.com. "When people in New York recognize you, that's huge!  When the icons like Melle Mel, Kool Herc, Raekwon, Nore and Kay Slay embrace me, it lets me know I'm doing something right."
When speaking about signing to Jeezy's CTE, Tone remains humble and appreciative to his fans.
"I'm not on no celebrity shit," he said. "I tell people when they have to take pictures of me, I'm just as happy as them. The best thing about this is that I'm getting a chance to meet all of the fans who help me get my deal, because you can't get a deal without a following and a fanbase.  So without Young Jeezy there wouldn't be no CTE; there wouldn't be me traveling the world. We just living a dream right now. I'm glad Coast 2 Coast let me be a part of it."
Tone also said he hopes to add to the success of his current tour with more dates. "We're gonna add 12 more dates," he said. "I went to Minnesota, Chicago, Detroit, Las Vegas, San Francisco.  We got two big shows coming up real soon in Philadelphia that's gonna be legendary.  There's gonna be a big surprise guest that I will bring out with me."
Tone recently released his mixtape, The New Fresh Prince.—Chanel Clark