Machine Gun Kelly Blasts Jimmy Iovine For Forcing "Invincible" Single on Him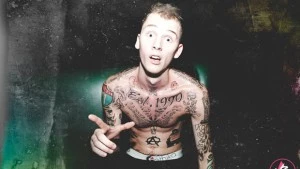 MGK has never been one to bite his tongue. And it doesn't look like he's about to start any time soon.
In a recent interview with Tampa Bay's WiLD 94.1 radio station, the 2012 XXL Freshman admitted that he was not pleased with the process behind the recording and selecting of his most recent single, "Invincible."
"First off, I hated the song when I first did it, because it was brought to me by corporate America," he said in the interview. "They didn't even come to me with the song. It was like a contest between the Interscope rappers like Yelawolf, Kendrick Lamar and myself, which I [later] found out." He revealed that he recorded his first verse during a Halloween party, on a whim, after being told that his label, Interscope, needed the song.
"It took weeks to get me to do the song, then three days later, it was on the Verizon commercial," he continued. "I was like, 'Oh my God. This is crazy. This is nuts. This is cool.' [But] I told my management, 'Don't you dare let them make this into a song.' A month passes by, all of a sudden, I open up an email. They're like, 'Yeah. Jimmy [Iovine] wants you to records a second verse to this.' And it had the hook on it.' I don't operate like that. I hate cookie cutter songs, like B.o.B. [and Hayley Williams] with 'Airplanes,' like [Eminem and Rihanna's] 'Love the Way You Lie.' You weren't there making the song with each other in the studio. It was presented to you. I write all my hooks. When I got this hook, I was offended. 'You guys think I'm a cookie cutter artist?' I don't work like that."
Kells went on to say that he had never spoken to either Esther Dean, who sings the chorus on "Invincible," or Alex Da Kid, the cut's producer. Reluctantly, he recorded a second verse. "I said, 'I'm not recording a video to it. This is not gonna be a single. Do whatever you want with it, but don't include me,'" he remembers.
A month later, he went to the studio, thinking he was walking into a session with Lil Jon, only to see Alex Da Kid. "He's like, 'I hated your second verse. You have to rerecord your second verse and I want you to take out half the first verse and do half the first verse, too,'" he recalls of his talk with the producer. "I was like, 'How 'bout you go and screw yourself?' I basically middle fingered them, the label, and my management, and walked out the studio and had the best sleep of my life."
He says that he was told, "'If you don't do this move for the biggest boss in music, your career might be over,'" in reference to Iovine. The next day, he says he thought about his friends and his daughter, went to the studio, and took his anger out in the second verse. "That's one of the best verses I've ever heard in my entire life," he said of his concoction. "There's so much pain and triumph behind that song, because we did all that, and came out on top."
MGK is set to release his official debut, Lace Up, later this year, through Interscope/Bad Boy. You can listen to the entire interview below. —Adam Fleischer