DJ Khaled Talks Running We The Best, Not Being Afraid to Release Music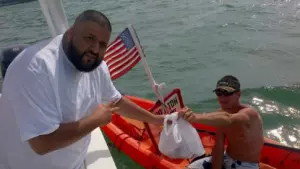 Some CEOs have their young artists waiting in the wings to release a debut album until they feel like the LP will be a bona fide blockbuster. DJ Khaled has a very different philosophy.
He wants to make the hottest music possible and put out projects regardless of what sales numbers indicate. He feels consistency builds careers.
"Over here at We the Best," Khaled, sitting with Ace Hood in his Miami studios began to explain to XXLMag.com, "we're not afraid to put out albums."
"Its not about how many records we gonna sell, its about we're gonna strive to be the best," he added. "If [Ace] puts out three albums, it might take the fourth one to sell a million copies. It might take the fourth one to sell gold copies. It doesn't matter. It's about putting the records out."
The New Orleans native, turned Miami-based music maven adds that labels shouldn't be fearful to put LPs out.
"You can't be afraid to put the albums out," Khaled continued. "That's the only way they gonna get to know you. So when his story is told, from his first to his fifth to his seventh album, he's got a great story. Look at he growth, look at the accomplishments. That's how I look at it. You can't be afraid to put that bitch out. It's music. Put that bitch out, then make another one."
The next album coming from We The Best is Khaled's second LP from his Cash Money Records deal, Kiss The Ring. That's due in August. Meanwhile Ace's fourth album is currently in production.—Shaheem Reid