No Decision Made in Murder Trial of Trevell "G. Dep" Coleman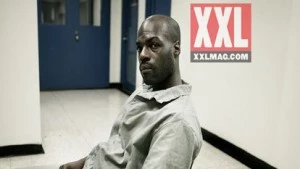 The jury in the murder trial of former Bad Boy Records rapper Trevell "G. Dep" Coleman will need more time to reach their verdict. After an hour and 15 minutes of deliberating on Monday (April 16), day four of Dep's murder trial, the jury couldn't reach a decision just yet. They'll meet back on Tuesday morning (April 17) at Part 51 of the Supreme Criminal Court in Lower Manhattan, NY to resume deliberation.
On Monday, Coleman's lawyer Anthony Ricco made his final pitch to the jury as part of the day's closing arguments. Once again, Ricco stated that his client did indeed shoot a man, but that it wasn't John Henkel, the Ridgewood, Queens man, who detectives matched Dep's shooting to. Furthermore, Ricco stated several red flags in evidence inconsistencies, as reasons why the jury must find Coleman not guilty.
Amongst the inconsistencies that Ricco raised, were the facts that Coleman said he shot the man in the torso, not chest as cops noted, that Dep never knew the man's age, as cops noted he said the man was 32, and there was no cigarette at the scene of the crime; despite the fact that Dep and a witness from last week said they seen the alleged victim smoking.
"They just could not get this story straight," said Ricco, who has said all along that detectives are matching Coleman to the wrong cold case shooting. "Are we talking about the same event? I'm begging you to go into the jury room and use your common sense!"
"If he's there to help himself, what is he lying about?" questioned Ricco to the 14 mixed jurors, referring to Coleman's chilling 2010 video confession at the 25th Precinct, where he admitted to shooting a man on 114 Street and Park Avenue in Harlem back in 1993. "This case is not about redemption. The case is about if the New York County DA office has proven the case beyond a reasonable doubt."
The entire time, Coleman sat silently, wearing a tan dress shirt with yellow tie and khakis. His wife, Crystal Sutton, alongside other members of his immediate family lent their support in the courtroom as well.
After about 45 minutes of Ricco's final say, Manhattan Assistant District Attorney David Drucker turned in his final arguments for just over an hour.
Once again, Drucker maintained the point that the most crucial evidence in the case derived from Dep himself, referring to Coleman's video-taped confession.
He also urged jurors to not buy into evidence inconsistencies that the defense brought up, saying it's not realistic for anyone to remember minuscule details from an incident over 17 years ago.
He maintained that detectives have correctly matched Coleman to Henkel.
"Everything-who, what, where, when, why and how matches up," Drucker said. "Ever heard the expression if it walks like a duck, talks like a duck and quacks like a duck? It's a duck!"
Once Drucker's summation was over, the counsel handed the case over to the jury at 3:15 p.m. EST. The jury deliberated for 40 minutes, until they came back into the Part 51 courtroom, asking to re-hear the 911 calls and police radio tapes from the alleged 1993 night of the shooting. One of the calls describes the shooter as a Black male.
After hearing the calls and tapes, the jury went back to their room to deliberate, this time for 35 minutes longer. They weren't able to reach a decision in the time remaining and will resume Tuesday. Two alternate jurors were released from their duties, leaving the jury with 12 members, who will decide Coleman's fate.
Coleman, responsible for hits like "Let's Get It" and "Special Delivery," is facing 15 years to life if found guilty.—Mark Lelinwalla
G. Dep's murder trial began Tuesday (April 10) in New York's Supreme Criminal Court andXXL is on deck, following the case. Check back with XXLMag.com daily for the latest updates.
Day 1: G. Dep's Murder Trial Begins With Opening Statements
Day 2, Part 1: G. Dep's Attorney Says There Are Inconsistencies in the Murder Case
Day 2, Part 2: G.Dep's Defense Says Not Enough Evidence to Connect Client to Murder
Day 3, Part 1: G. Dep's Attorney Insists His Client Didn't Kill Presumed Victim
Day 4, Part 1: Prosecutors Begin Final Arguments in G. Dep Murder Case