XXL's SXSW Diary, Day 1: Guess Who I Just Saw?
I'm a South By Southwest first-timer. Though I'd constantly been warned about the South By do's and don't in the week leading up to my arrival in Austin, I still didn't know what to expect. Things got off to a slow start on Day One.—Carl Chery (@cchery)


Monday March 12, 2012…11:40 a.m.
After coughing up a $70 cab ride (Austin cabs are much more expensive than in New York), I check into the Holiday Inn Express early. It's a quiet hotel located approximately 15-20 minutes from Downtown Austin.
Monday March 12, 2012…12:15 p.m.
I meet XXL Editor-In-Chief Vanessa Satten in the hotel lobby. She tells me she just bumped into Havoc of Mobb Deep on her way in minutes earlier.
Monday March 12, 2012… 12:20 p.m.
We head out to grab our SXSW badges and bump into Mobb Deep. This would be the first of many run-ins into the legendary Queens duo, especially Havoc who appeared to be omnipresent no matter the location throughout the whole week. Mobb and crew even stayed on my floor.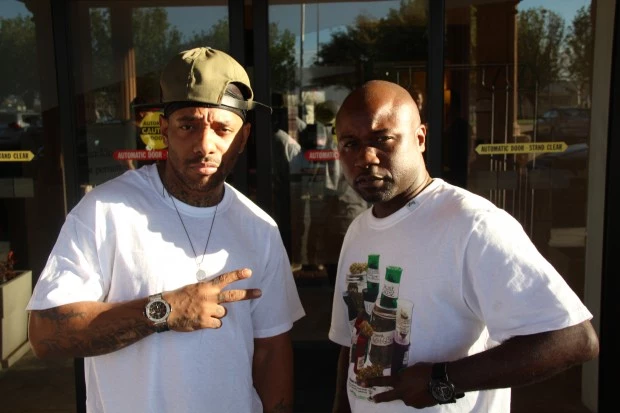 Monday March 12, 2012… 2:00 p.m.
After getting some food we go on a mission to pick up tickets for the Jay-Z Amex Sync Show. Attendees were supposed to pick up tickets on Sunday night, but since we weren't in town yet we have to head to the Austin Convention Center to meet Sal of American Express. He has our tickets.
Monday March 12, 2012…2:15—2:45
We drive around looking for parking near the ACC, but most lots are already full so we end up parking on 8th Street and Lavaca Street. The ACC entrance we're looking for is on 4th and Neches Street.
Monday March 12, 2012… 4:00 p.m.
After picking up our tickets and SXSW badges, we make plans to have my friend Kwasi Asare—who suggested to pick us up with a Jaguar car service—pick us up at the hotel at 5:30 p.m. so we can head back Downtown for the Jay show.
Monday March 12, 2012… 6:00 p.m.
Kwasi shows up with two Jags, but it turns out there's a catch. We get a free ride in exchange for being interviewed about our jobs. No biggie. We agree and head Downtown. Monday March 12, 2012… 6:30 p.m.
We arrive at Austin City Limits and walk in for the Jay show.
Monday March 12, 2012… 6:35 p.m.
I get stopped at the last security check point because I don't have clearance for my professional camera. "I can't believe you got this far," the lady offers. She suggests that I check my bag at the W Hotel downstairs.
Monday March 12, 2012… 7:30 p.m.
Jay-Z takes the stage for a 75 minute set. He performs "99 Problems," "Izzo (Hova)," "Where I'm From," "Heart of the City" and "Empire State of Mind," just to name a few. Surprisingly the Amex crowd doesn't seem to really know Jay's music. Only few in the audience are rhyming along. Monday March 12, 2012… 8:15 p.m.
I venture off to the other side of ACL and bumped into 7-time champion Robert Horry. But, my camera's at the W, so, no photos.
Monday March 12, 2012… 8:45 p.m.
The Jay show is over so we head over to Molotov where Just Blaze will be DJing.
Monday March 12, 2012… 9:05 p.m.
We arrive at Molotov. The venue is pretty empty, so we contemplate leaving, but stick around.
Monday March 12, 2012… 11:00 p.m.
XXL Music Editor Adam Fleischer meets us at Molotov. His flight landed a few hours earlier.
Monday March 12, 2012… 12:30 a.m.
Molotov is now packed and we bumped into some of our friends from New York, including Jordana Bruner from Taylor Strategy, Sherlen Archibald from Chambers Group, Leigh Davenport from Hello Beautiful, Richie Cruz and Chloe Hilliard, among others.
Monday March 12, 2012… 1:00 a.m.
Mobb Deep takes the stage. My bag's still at the W so I can't take any pictures.
Monday March 12, 2012… 1:20 a.m.
Just Blaze gets on the ones and twos and the party really picks up.
Monday March 12, 2012… 2:30
After stopping by a food truck and briefly hitting another party, we decide to head back to the hotel. It's only Day One and there's much more to come.
Stay tuned to see what XXL's editors were up to on Day Two of their SXSW journey.